VITAS Healthcare Doubles Its Financial Support of Treasure Coast Food Bank
December 1, 2020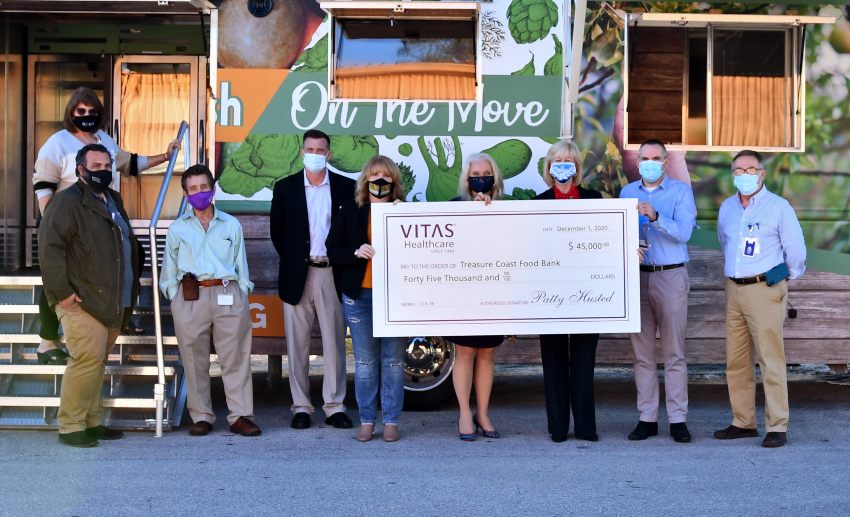 FORT PIERCE, FL — VITAS Healthcare has doubled its financial support of the Treasure Coast Food Bank, giving a total of $90,000 this year to the Treasure Coast's largest hunger relief organization.
Susan Acocella, general manager for VITAS in the three-county Treasure Coast region, presented a $45,000 check on December 1 to food bank officials at their Fort Pierce office. VITAS made a similar $45,000 donation in early March to the food bank to support families impacted by COVID-19.
"In the 18 months since VITAS joined the Treasure Coast community, it has stepped up time and time again."

-Judith Cruz, Treasure Coast Food Bank president and CEO
"Like VITAS, the Treasure Coast Food Bank is committed to a range of supportive services to help meet the basic needs of Treasure Coast individuals, families, veterans, seniors and the homeless," said Acocella. "Through this strong partnership, VITAS and the food bank are taking a 'people-first' approach to our work, meeting the challenges together to help residents and our communities survive trying times."
Public and private donations enable the food bank to distribute food to more than 300 agencies throughout four Treasure Coast counties: Indian River, Martin, Okeechobee and St. Lucie. Collectively, the food bank provides more than 41 million meals a year to Treasure Coast residents and families through after-school and weekend backpack nutrition programs for children, a mobile pantry for underserved areas, and outreach programs to area veterans, seniors and schools.
"In the 18 months since VITAS joined the Treasure Coast community, it has stepped up time and time again to support local agencies and our residents in times of need, whether we're recovering from a hurricane or feeding people during the pandemic," said Judith Cruz, president and chief executive officer of the food bank. "We are so thankful, especially at this time of year, for the ongoing support from our partners at VITAS."
VITAS Healthcare is the leading provider of end-of-life care in the US with over 40 years of experience in hospice care. During the 2020 holiday season, VITAS is stepping up in other ways to support communities and families in need. In Okeechobee County, the VITAS team provided complete Thanksgiving dinners from Publix to 30 area families whose loved ones are on hospice care, and its team members are participating with other agencies' gift-giving initiatives for children.
Serving the Treasure Coast since 2019 with offices in Stuart, Port St. Lucie and Okeechobee, VITAS provides compassionate, comfort-focused hospice care to patients with advanced illness wherever they call home throughout Martin, Okeechobee and St. Lucie counties. To find out more about how VITAS cares for patients near the end of life, visit VITAS.com or call 772.281.5293, available 24/7/365.
For media inquiries: