VITAS Healthcare's $10,000 Donation Supports Florida Panhandle's Hurricane Michael Recovery
December 21, 2020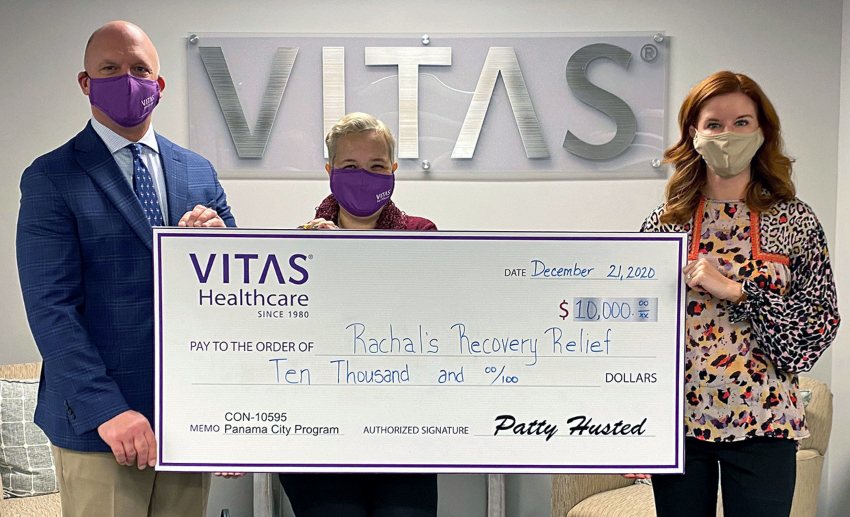 PANAMA CITY, FL — A $10,000 donation by VITAS Healthcare to nonprofit Rachal's Recovery Relief ensures that residents of Florida's Panhandle will continue to receive help through the holiday season as they rebuild and recover from 2018's Hurricane Michael.
Terry Holecek, vice president of operations for VITAS in the six-county Panama City region, praised the efforts of Rachal Smoker and her volunteer- and donor-supported hurricane recovery agency as the team presented the check from VITAS, a Bay-area hospice provider since July 2020 and the nation's leading provider of end-of-life care.
"VITAS has stepped up as a strong Bay-area partner in this effort."

-Rachal Smoker, founder of Rachal's Recovery Relief
"Just as our hospice teams surround our patients and families with multiple layers of support, this donation will enhance the quality of life for our neighbors and friends throughout this region, giving them the financial, food and housing resources they need to continue to rebuild and thrive," said Holecek.
Rachal's Recovery Relief provides immediate relief that targets short- and long-term recovery from Hurricane Michael, the first-ever Category 5 storm to impact the Florida Panhandle and the third most-powerful Atlantic hurricane on record in the U.S.
Founded by Smoker, a working mother and volunteer for Bay District schools, Rachal's Recovery Relief provides aid through a local food pantry, utility bill relief program and gift cards. It also provides building materials to area residents and businesses, and sponsors clothing and school supply drives.
"This generous donation provides a tremendous boost to our holiday food drive and ongoing initiatives that continue to strengthen and rebuild our community," said Smoker. "VITAS has stepped up as a strong Bay-area partner in this effort, and their support will help us maintain our mission to help our neighbors and strengthen our communities."
Since July, VITAS has provided interdisciplinary hospice care to patients and families in Bay, Calhoun, Gulf, Holmes, Jackson and Washington counties. For information about hospice services, visit VITAS.com or call 800-723-3233, available 24 hours a day, seven days a week.
For media inquiries: