VITAS Healthcare Awards $30,000 Grant to Panama City Rescue Mission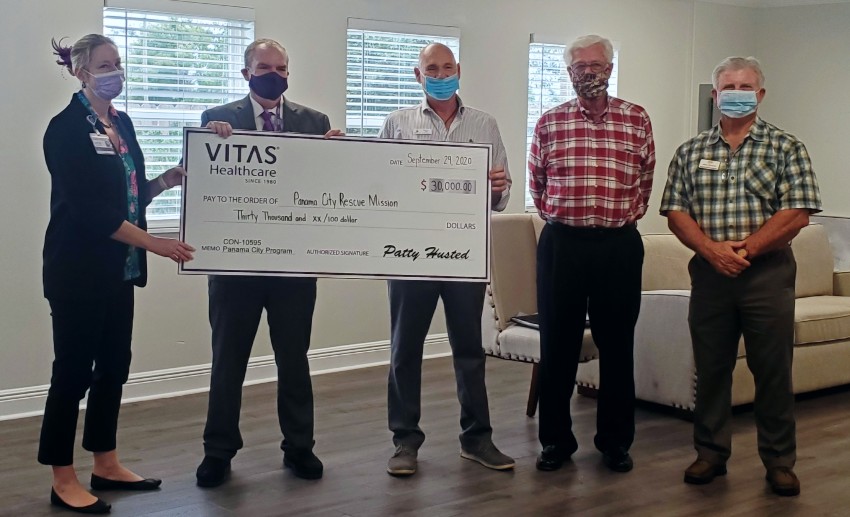 Melissa Tidwell, VITAS director of market development, and Kenn Wallace, VITAS general manager for Panama City, present a ceremonial check to Stephen Fett, president and CEO of Panama City Rescue Mission (PCRM), and Jim Bryan, chairman of PCRM's board of directors, and Allan Graham, vice chairman.
PANAMA CITY, FL. — The Panama City Rescue Mission (PCRM) received a $30,000 grant from VITAS Healthcare to provide aid to people experiencing homelessness in Bay County. Leaders from the area's newest hospice provider presented the check on Tuesday, September 29 at the PCRM Women's and Children's Shelter located at 1313 E. 11th Street in Panama City.
VITAS opened an office in downtown Panama City in July, bringing immediate care from an expert team of hospice professionals to patients with advanced illness who live at home or in residential care facilities. As part of its commitment to bring resources to the Panama City community swiftly, VITAS selected PCRM for helping people move from destitute conditions or desperate situations of human suffering to human flourishing.
This grant supports the new PCRM "Life Transformation Program," which assists people with relationships, personal health, economic stability and housing. In life transformation work, outcomes are measured qualitatively and demonstrate progress, change and transformation.
"The outcomes help tell the story of life transformation," said Stephen Fett, PCRM CEO. "The vision for PCRM is to provide the inspiration and services that will stimulate effective collaboration without compromise and uphold personal development within the community as the clear and compelling pathway out of recurring crisis through rescue, redemption, rehabilitation and re-assimilation.
"That's why we're glad to accept this gift from VITAS Healthcare to quickly aid those in need in our community," Fett said.
The PCRM continues to uphold this important commitment to the community as many people are challenged with securing stable food, shelter or employment, and is accepting financial donations to aid the homeless. Since 1973, the PCRM has been committed to Christ-centered rescue, recovery and restoration in an effort to break the destructive cycle of poverty and homelessness.
To donate, visit www.pcrmission.org.
For media inquiries: