Indian River State College Receives $85,000 From VITAS Healthcare for Hospice Simulation Technology
May 28, 2020
FORT PIERCE, FL – Thanks to a donation from VITAS Healthcare, students who pursue nursing certifications and degrees at Indian River State College (IRSC) now have the benefit of learning about physiology and end-of-life care with CAE Apollo, high-fidelity, wireless technology that simulates an adult patient and a hospice room.
Purchase of the METIman patient manikin is made possible by an $85,000 gift from VITAS, the nation's leading provider of end-of-life care based in the Treasure Coast since mid-2019. Susan Acocella, general manager for VITAS, presented the check on Thursday, May 21, to IRSC President Dr. Edwin Massey.
"VITAS is proud to support the next generation of healthcare and hospice professionals," said Acocella. "With a growing focus on compassionate end-of-life care, this kind of technology exposes students to patient symptoms and end-of-life scenarios that are instructive, safe, and as real as possible. Providing this technology is one way that we can contribute to students' understanding and delivery of empathetic hospice care."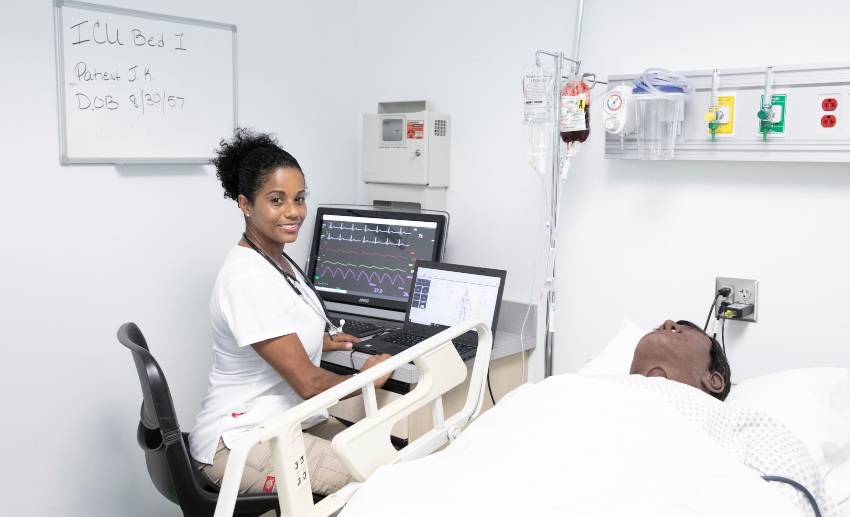 Easily configurable for nursing and pre-hospital programs, CAE Apollo will be used at the IRSC Nursing Lab at the Pruitt Campus in Port St. Lucie for individual and team training. The wireless simulator exhibits realistic patient behaviors and responses. Easily moved from classroom to nursing labs, the manikin can be used for large presentations or smaller, in-depth demonstrations of nursing encounters and skills.
"We are grateful for the investment that VITAS is making in our nursing program," said Ann Decker, IRSC Foundation Executive Director. "Thanks to their generosity, learning will be further enhanced with immersive and true end-of-life patient encounter experiences, provided by a high-fidelity human-patient simulator and a simulated in-patient hospice room."
VITAS provides care to hospice patients and families throughout St. Lucie, Martin, and Okeechobee counties from its offices in Stuart and Port St. Lucie. IRSC provides traditional and remote learning for students in the same three Treasure Coast counties plus Indian River County.
For media inquiries: