Donation to Chipola College Supports Healthcare Education in Marianna
April 4, 2022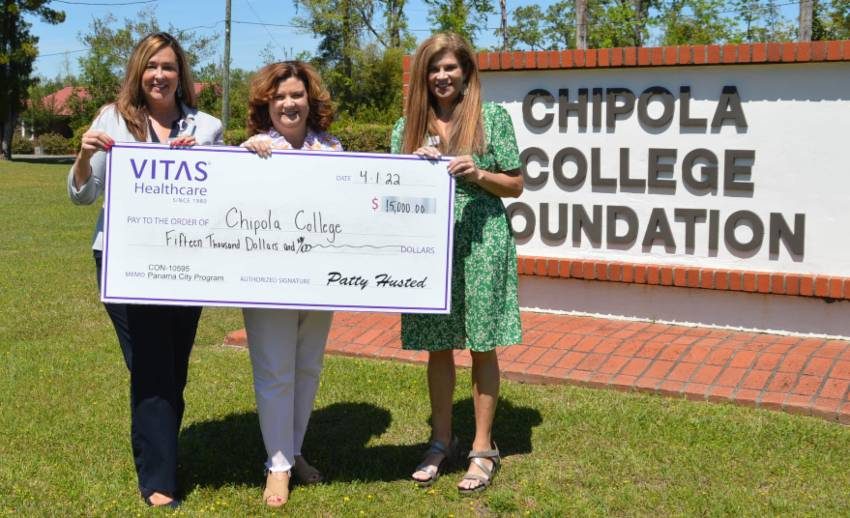 Marianna, FL—Undergraduates of Chipola College will benefit from a recently awarded $15,000 grant to aid healthcare higher education throughout the Florida Panhandle. VITAS Healthcare presented the check in support of the educational institution's mission to help facilitate the economic, social and cultural development of the area it serves.
"As a proponent of quality education, we acknowledge the efforts of Chipola College in providing a curriculum that serves vital staffing needs, such as business and nursing," said Jennifer Phillips, general manager for VITAS in Panama City. "With opportunities to learn, earn degrees and build careers, the college is a resource for those in the community as well as the organizations who benefit from their skills."
Based in Marianna, Chipola College provides opportunities for students to earn baccalaureate degrees, associate degrees and certificates in education, business and nursing.
"On behalf of Chipola's students, we thank VITAS Healthcare for this donation that will be an educational investment into numerous students who will enroll at Chipola College in a healthcare-related field and ultimately work in our community," said Julie Fuqua, Chipola College foundation director. "Student scholarships help make a college education possible for so many of our students, and this contribution is much appreciated."
VITAS builds relationships in the communities of the patients and families it serves. Seeking to enhance the quality of life for those of all ages, the Panama City-based hospice provider puts patients and families first in offering comfort-focused end-of-life care. As the nation's leading provider of hospice and palliative care, VITAS provides Florida families with access to clinical, spiritual and psychosocial services.
The Panama City community welcomed VITAS in 2019, expanding high-quality hospice care for residents of Bay, Calhoun, Gulf, Holmes, Jackson and Washington counties. VITAS teams operate out of offices in Panama City and Marianna.
For media inquiries: