Calhoun-Liberty Ministry Center Receives Donation to Support Local Food Pantry and Social Services
April 4, 2022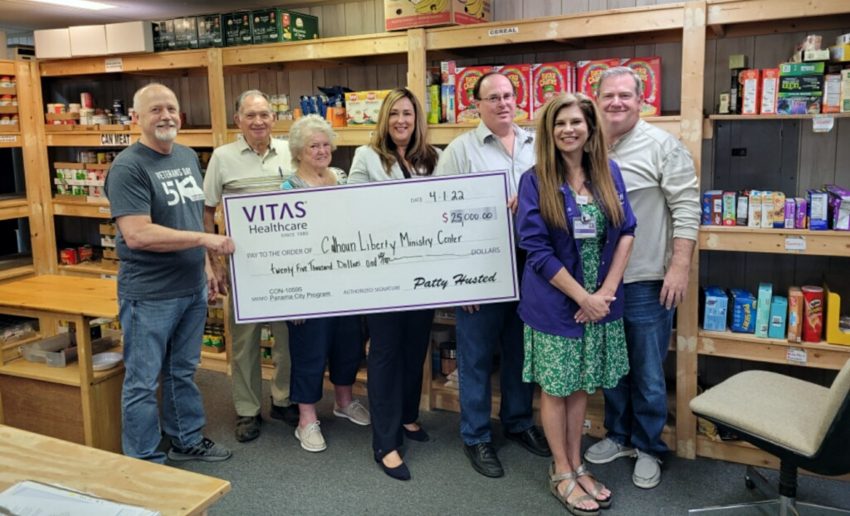 Panama City, FL—To assist in providing for the needs of residents in the Florida Panhandle, VITAS Healthcare donated $25,000 to the Calhoun-Liberty Ministry Center. These funds will help support the community food pantry and services such as offering clothing, household items, counseling and more for people in crisis.
"As we continue to champion our community partners such as Calhoun-Liberty Ministry Center, we demonstrate our gratitude for the significant services they deliver," said Jennifer Phillips, general manager for VITAS in Panama City. "As advocates of compassionate care, we seek to uplift all of those who call this community home."
When needed, VITAS provides Florida families with access to clinical, spiritual and psychosocial care through hospice services. As the nation's leading provider of hospice and palliative care, VITAS puts patients and families first in offering comfort-focused end-of-life care. At the same time, VITAS engages in the communities in which its staff works and serves to improve the quality of life for residents of all ages and life stages.
The Panama City community welcomed VITAS in 2019, expanding high-quality hospice care for residents of Bay, Calhoun, Gulf, Holmes, Jackson and Washington counties. To best serve the area, VITAS operates out of offices in Panama City and Marianna.
For media inquiries: