Alzheimer's Project Receives $20,000 Grant for Caregiver Support Groups
April 7, 2022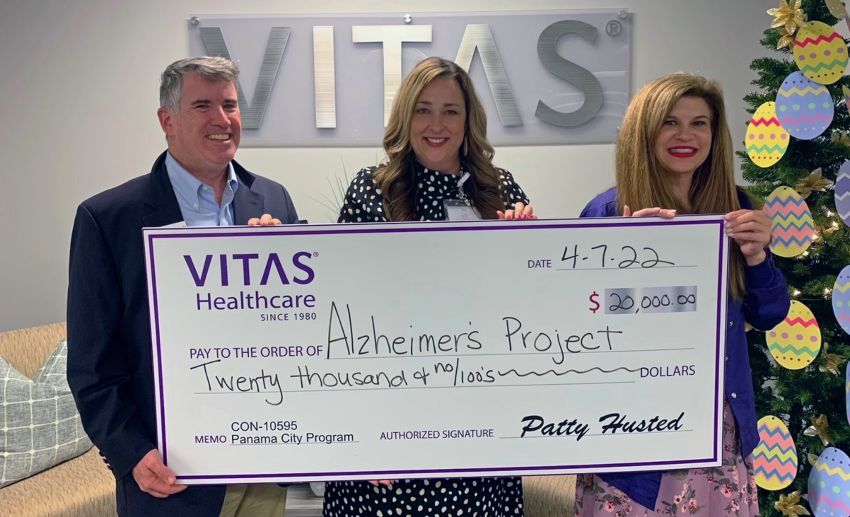 Panama City, FL—Aligning with the mission of the Alzheimer's Project to support a dignified, comfortable existence for those living with the disease, VITAS Healthcare has contributed $20,000 to the nonprofit. These funds assist the organization in providing respite services, support groups, educational courses and counseling to sustain those caring for loved ones with this advanced illness.
"As an organization of caregivers, we understand the daily rigors of caring for those with dementia," said Jennifer Phillips, general manager for VITAS in Panama City. "It is our honor to support those with memory disorders along with those who care for them. Helping individuals with Alzheimer's remain in the comfort of their homes is a value VITAS upholds for our patients and families as well."
"We are so thankful to have this partnership with VITAS," said John Trombetta, executive director for the Alzheimer's Project. "This funding allows us to help caregivers in some of our more remote counties. These counties have overcome some tremendous obstacles over the last few years. We want to be there for these communities. We could not do this without VITAS."
As the nation's leading provider of hospice and palliative care, VITAS is dedicated to enhancing the quality of life for those with advanced illnesses. Its dedicated healthcare professionals provide patients with compassionate care in the form of clinical, spiritual and psychosocial services through hospice. An interdisciplinary team delivers coordinated care to ensure the patient's comfort and their families' peace of mind.
VITAS offers hospice care for residents of Bay, Calhoun, Gulf, Holmes, Jackson and Washington counties, operating out of offices in Panama City and Marianna.
For media inquiries: