How We Help Hospitals and Health Systems Succeed
VITAS understands hospitals' and health systems' objectives within the value-based healthcare environment: to provide high-quality, cost-effective care that meets and improves ever-changing industry metrics and patient satisfaction scores.
Aided by VITAS' hospice expertise along the continuum of care, hospitals and health systems can effectively reduce per-beneficiary spending, mitigate risks and achieve optimal, patient-centered outcomes.
A VITAS partnership directly addresses hospital and health system challenges of high-need/high-cost (HNHC) patients. When seriously ill patients or patients with complex needs no longer respond to curative treatments or restorative care, VITAS transitions them seamlessly to hospice in the most appropriate secondary site of care, including hospice care at home.
We provide palliative care options in lieu of aggressive treatments, supported by hospice's interdisciplinary focus on symptom management, pain relief and enhanced quality of life.
Succeeding in an Ever-Changing Value-Based Care Landscape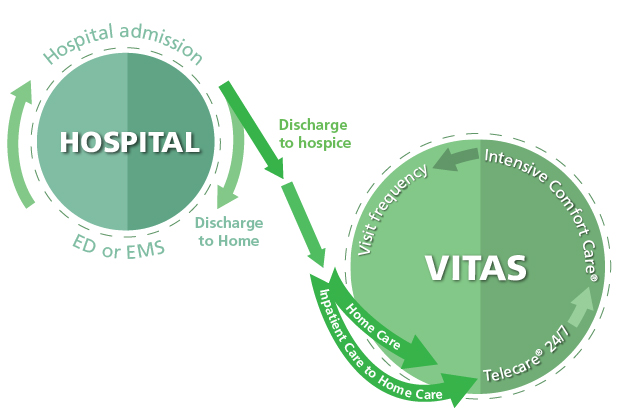 Leverage the Benefits of Discharging Hospice-Eligible Patients to VITAS
A VITAS partnership helps your hospital or health system:
Manage DRG costs and payment challenges via seamless care transitions that reduce overall costs for patients with advanced illness
Provide immediate, multi-level care to hospice-eligible, HNHC patients: Traditional interdisciplinary hospice care that is supported by respiratory therapy, PT/OT/Speech therapy, music therapy, dietary support, nutritional counseling and other services, when necessary
Reduce readmissions, in-house mortality rates and use of intensive services
Decrease length-of-stay (LOS) to reduce boarding challenges and improve emergency department (ED) throughput
Form a seamless bridge between the hospital and appropriate, secondary sites of care
Support the hospital's value-based care measures and quality indicators
Enhance patient experience with a team of hospice specialists who provide clinical, emotional and spiritual care, pain management, home medical equipment, an open formulary and 24/7 Telecare support.
Support seamless interoperability between VITAS and hospital referral systems
Leverage VITAS' Expertise in Care Coordination
VITAS' care coordination pathways include:
Transition of advanced illness patients to an appropriate secondary site of care
An average of five-plus visits per patient per week by our interdisciplinary care team
24-hour access to VITAS staff who can dispatch a clinician to the bedside 24/7/365
Shifts of continuous care at the bedside, when medically necessary, until symptoms are under control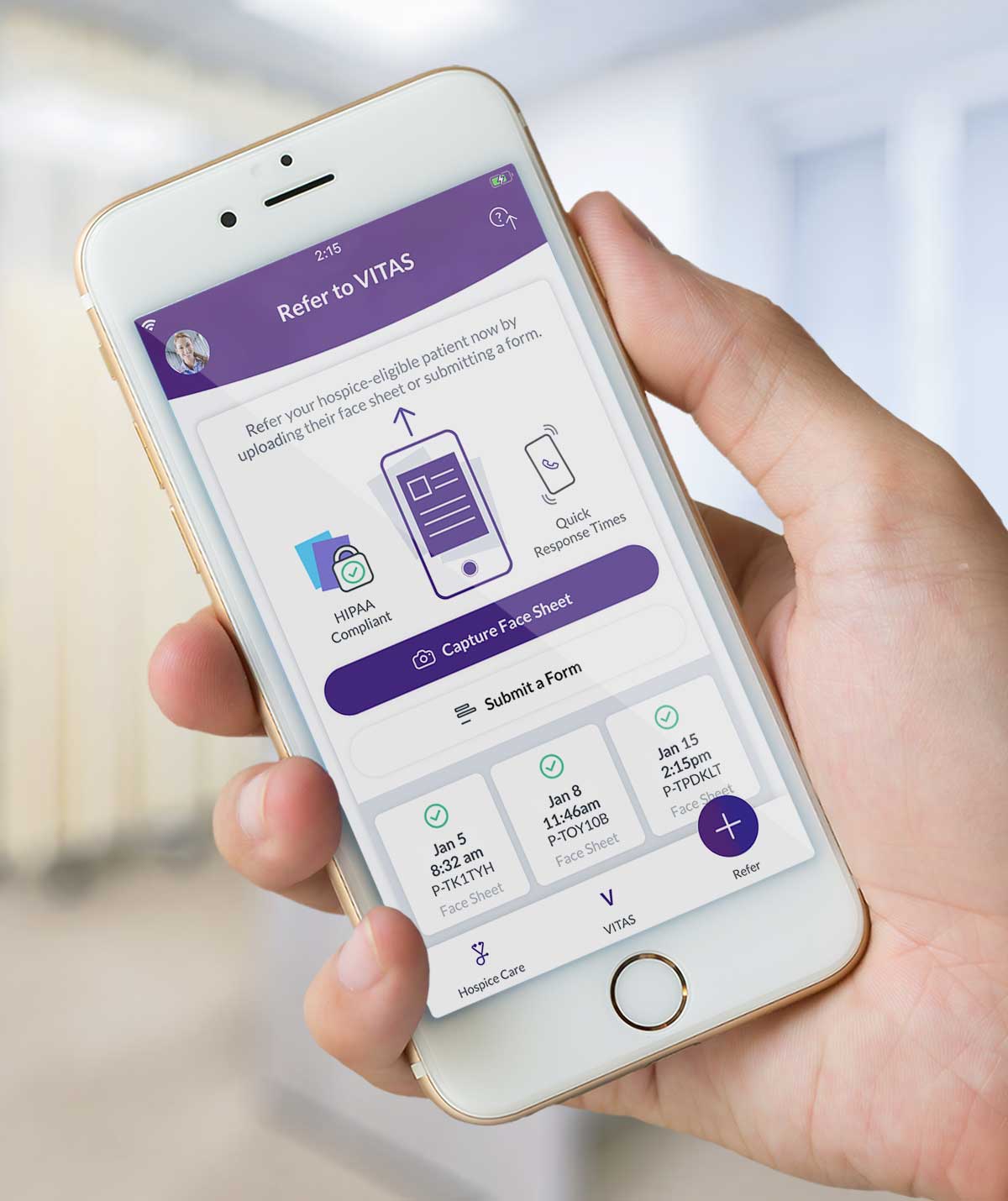 Quick, Secure and Simple
Refer your hospice-eligible patient easily. The VITAS app features:
One-touch referral capability
Immediate access to hospice clinical guidelines
1-click access to a VITAS admissions coordinator
Android and iOS compatibility
Download now