How VITAS Healthcare Helps Hospitals and Health Systems
VITAS quickly and effectively transitions hospice-eligible patients from a curative approach to a symptom-management approach. We understand your objective: maintain high standards of patient care and quality metrics within the value-based environment. VITAS and our advanced illness management services play a vital role in care coordination and care continuum, helping you manage costs effectively while achieving optimal outcomes for hospice-eligible patients.
Hospital readmissions continue to be a challenge, especially those involving patients whose conditions are covered in the Hospital Readmissions Reduction Program (HHRP), along with Hospital Acquired Conditions (HACs), Value-Based Purchasing (VBP), and sequestration
Utilizing a value-based care model that uses resources effectively while focusing on the patient during varying stages of illness is imperative for an organization's success and survival. VITAS is a strategic partner that offers proven, seamless care transitions for patients with complex needs and supports the continuum of care, from acute through post-acute networks..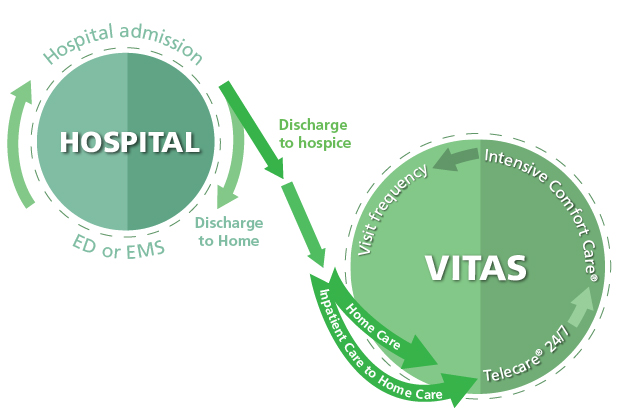 This graphic shows how VITAS can help a patient break the cycle of hospital readmissions.
What VITAS can do for your hospital or health system:
Provide a seamless transition pathway to hospice care for the hospital's highest acuity patients with limited functional independence.
Reduce readmissions, in-house mortality rates and use of intensive services
Decrease length-of-stay (LOS) to improve emergency department (ED) throughput and boarding challenges
Support the hospital's value-based care measures and quality indicators
Impact patient satisfaction and Hospital Consumer Assessment of Health Plans Survey (HCAHPS) scores
Form a seamless bridge between the hospital and an appropriate secondary site of care
Implement seamless interoperability solutions between VITAS and hospital referral systems
Hospital discharge to VITAS
When you refer a patient to VITAS, our patient-centered services enhance your organization's ability to remain viable and competitive in the ever-changing value-based healthcare environment.
VITAS' care coordination pathways include:
Transition of advanced illness patients to an appropriate secondary site of care
An average of five-plus visits per patient per week by our interdisciplinary care team
24-hour access to VITAS staff who can dispatch a clinician to the bedside 24/7/365
Shifts of continuous care, when medically appropriate, until symptoms are under control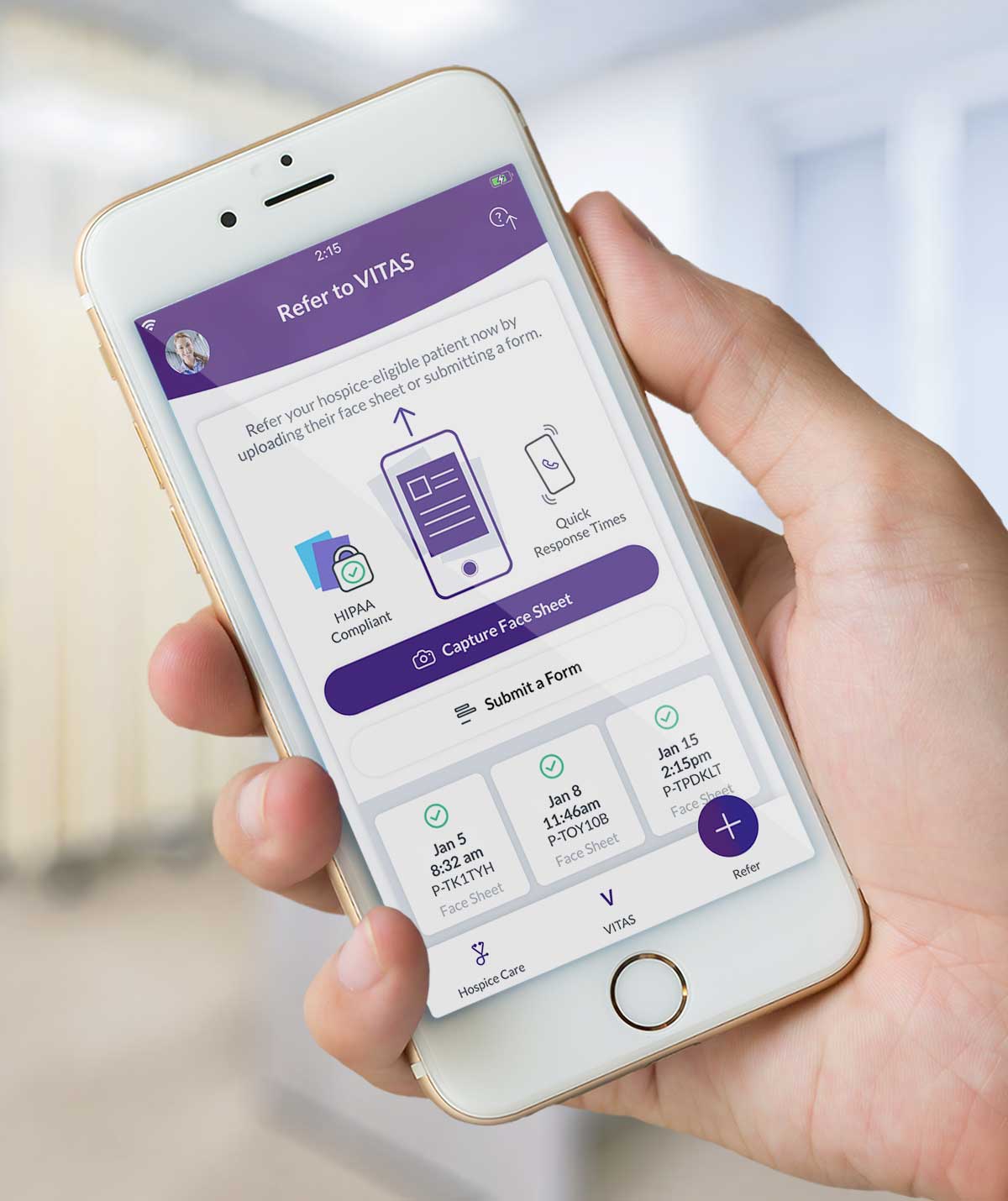 Quick, Secure and Simple
Refer your hospice-eligible patient easily. The VITAS app features:
One-touch referral capability
Immediate access to hospice clinical guidelines
1-click access to a VITAS admissions coordinator
Android and iOS compatibility
Download now