How We Help Physicians
With the VITAS app, referrals are quick, secure and simple.
Your patients depend on your guidance in making some of the most important healthcare decisions they will ever make. Shouldn't you partner with a hospice provider that has a proven record of delivering the highest-quality clinical, spiritual and emotional support services?
Hospice as Part of Your Continuum of Care
VITAS' hospice services are specially designed to supplement the high level of care attending physicians and clinical staff bring to their patients. Our staff actively monitors and manages changes/declines in your patient's condition.
VITAS: Your Care Transitions Expert
In addition to delivering seamless patient transitions, improving your medication reconciliation, reducing avoidable rehospitalizations and ED visits and helping boost HEDIS® and CAHPS® scores, VITAS provides patients with:
Expert medical care, pain and symptom management and emotional and spiritual support
In-home hospice care, whether home is a private residence, nursing facility or assisted living community
An average of five-plus visits per patient per week by a member of VITAS' interdisciplinary hospice team
24-hour access to VITAS staff via VITAS® Care Connection Centers
Shifts of continuous care in the patient's home when medically appropriate until symptoms are under control
Delivery of all home medical equipment, medications and supplies that pertain to the terminal illness
Bereavement support for the family by VITAS staff for up to 13 months
When is the Right Time to Refer a Patient to Hospice?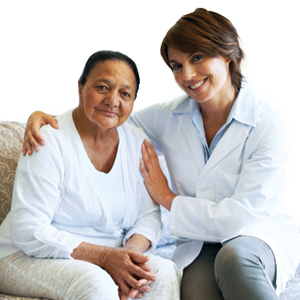 Hospice care is most beneficial when it is provided for months, rather than weeks or days. In addition to managing pain and symptoms, hospice can enable a meaningfully longer and better quality of life. The added time offers an opportunity to address spiritual needs as well as financial, practical and relational matters.
Our expert care is often exactly what is needed for patients who:
Have unmet pain needs
Make frequent emergency room visits for the same symptoms or condition
Have been in an ICU without improvement
Have been readmitted to the hospital within 30 days for the same condition
Is your patient ready for hospice?
Your Responsibility as the Attending Physician
VITAS care plans are dependent upon the attending physician's approval, and we welcome the physician's input on care. If you refer a patient to hospice who then designates you the attending physician, you can retain control and bill for care you provide related to the terminal diagnosis.
As the attending physician for the patient(s) you refer to VITAS for hospice services, you are an integral member of our interdisciplinary team, which has overall responsibility for managing and providing hospice care to these patients.
To provide hospice care to your patients, VITAS must obtain, at the time a patient is admitted to hospice care, a certification that, based on your clinical expertise, the patient's prognosis is for a life expectancy of six months or less if the terminal illness runs its normal course.
As the attending physician, you are jointly responsible with the VITAS physician and interdisciplinary team for establishing, reviewing and updating your patient's plan of care. You will be consulted regularly regarding your patient's hospice plan of care and are encouraged to participate in VITAS' interdisciplinary team meetings.
Don't Delay Hospice Because of a Patient's Financial Concerns
The Medicare Hospice Benefit covers 100 percent of the cost of care related to a patient's terminal illness. In most states, Medicaid also will provide hospice coverage, as do most private insurance plans.
Get the PDF: The Medicare Hospice Benefit