VITAS Recognized for Supporting Employees in the National Guard and Reserve
08/07/2017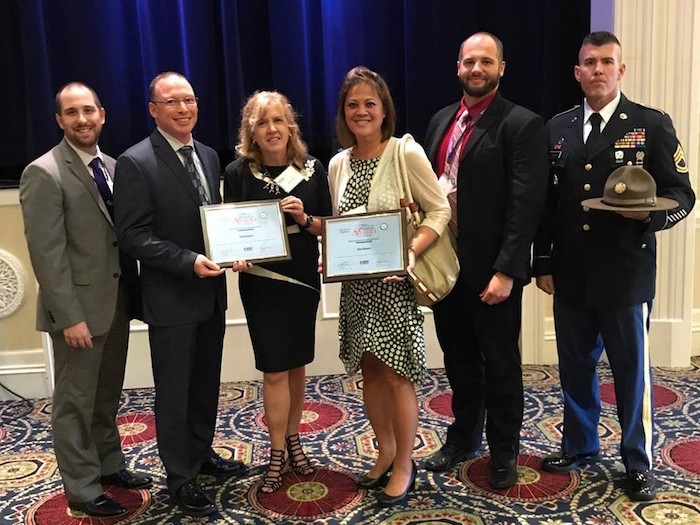 Left to right: Joe Galante, VITAS Director of Market Development, Keagen Brown, Vice President of Operations at VITAS; Joanne Beardsley, VITAS Business Manager; Melissa McNally, VITAS of Delaware General Manager; Eddy Caldwell, VITAS Patient Care Administrator; Sergeant Gary Black, VITAS Veteran Liaison.
Newark, DE, August 7, 2017—The Employer Support of the Guard and Reserve (ESGR) has nominated VITAS Healthcare of Delaware for the Secretary of Defense Employer Freedom Award. Major General Carol A. Timmons, adjutant general of the Delaware National Guard, presented VITAS' leadership team with the nomination during a luncheon recognizing organizations that support veterans and reservists on Tuesday, August 1, 2017.
The award is the highest recognition that an organization can receive from the U.S. government for supporting employees in the Guard and Reserve. VITAS' nomination is a direct result of its commitment to support veteran employees while they are deployed on duty.
"We are incredibly honored to receive this nomination," said VITAS Healthcare Vice President of Operations Keagen Brown. "It's a direct reflection of how we follow our corporate values—"We take care of each other." We are proud to support our employees who serve our country in addition to the patients and patients we are privileged to serve each day."
As an employer of choice, VITAS is committed to building a diverse workforce that values inclusion and respect. VITAS also has a long history of supporting veteran initiatives for its patients. VITAS honors veterans' end-of-life care preferences and works with the National Hospice and Palliative Care Organization and the Department of Veterans Affairs to provide respectful and compassionate care, as exemplified by the company's participation in the We Honor Veterans program. VITAS staff members and volunteers are trained on the unique needs of veterans near the end of life to provide an added level of depth and empathy to our services.
The Department of Defense established the ESGR program in 1972 to motivate cooperation and understanding between Reserve Component Service members and their employers. Located in every state, the ESGR successfully enhances employer support of military commitments to ensure that employees can defend their country and return to meaningful employment.