VITAS Healthcare Invests in Future Nurses With Inaugural Miami Dade College Scholarship
April 18, 2023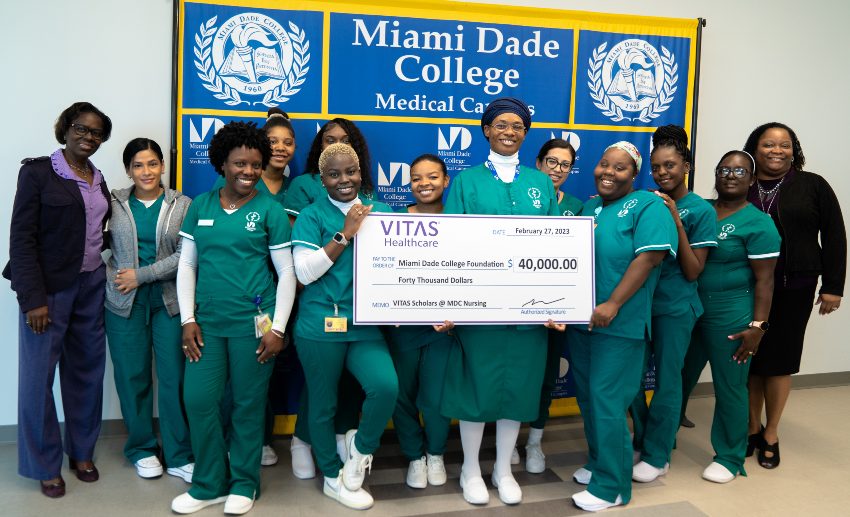 MIAMI, FL—The nation's leading provider of end-of-life care is making access to nursing education more affordable through a scholarship commitment to Miami Dade College Benjamín León School of Nursing. The annual $40,000 grant from VITAS Healthcare provides tuition assistance to four students pursuing a licensed practical nursing (LPN) degree each year.
"VITAS is committed to the future of nursing, and we are honored to provide opportunities to those in the Miami-Dade community who have a passion for hospice care," said Betty Bel, vice president of operations for VITAS in South Florida and a Miami Dade College alumna. "It is a privilege to support talented, aspiring nurses with tuition assistance for their education and equip them with tools to advance in an industry that ultimately strengthens our entire community."
Learn more: What you can expect from a VITAS career >
The scholarships will be awarded to two recipients each spring and fall semester, totaling four per calendar year. Eligible nursing students who apply for the financial aid will submit a hospice-related short essay and commit to two years of employment with VITAS.
VITAS leaders presented the $40,000 check to the Miami Dade College Foundation, accepted by Foundation CEO Nelson Hincapie and COO Julie Vives, along with Tommie Norris, DNS, RN, dean of nursing; Dr. Bryan Stewart, president of the medical campus; and Kayla Mathis Campbell, chair of the LPN program.
"We at Miami Dade College are delighted to continue our longstanding partnership with VITAS Healthcare," said Dean Norris. "The investment in our students is vital to fulfilling the growing demand for nurses and to providing the education needed to care for patients near the end of life with compassion, dignity and respect."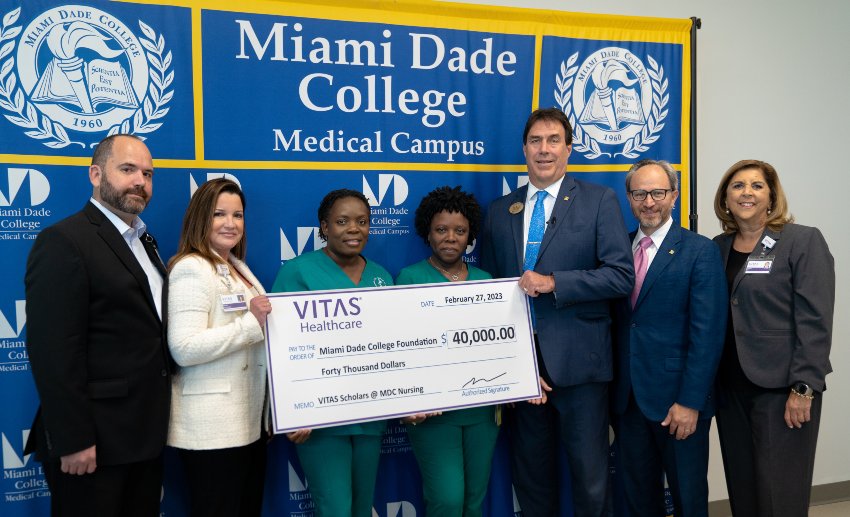 In addition to the scholarship opportunities, VITAS is connecting its medical directors with nursing students through a speaker series to provide end-of-life education each semester. Aspiring LPNs will learn hospice fundamentals and the role of nurses as part of the interdisciplinary hospice team.
VITAS was founded by two faculty members of Miami Dade College in 1978 as one of the nation's first hospice programs. After over 40 years of providing hospice and palliative care throughout Florida, VITAS continues to be a leader in closing the gaps in end-of-life care. VITAS is committed to affording career opportunities to compassionate nurses seeking rewarding employment and to caring for those underrepresented and underserved in the healthcare industry.
The Benjamín León School of Nursing at Miami Dade College is led by a team of distinguished faculty members with a unique focus on hands-on training in state-of-the-art facilities. The school offers full-time, part-time and online associate and baccalaureate degree programs and is recognized as one of the top ten most affordable nursing schools.
VITAS is hiring for a variety of clinical and non-clinical roles throughout South Florida. Compassionate and dedicated applicants can find a meaningful career in hospice and apply online at careers.vitas.com.
For media inquiries: