VITAS Healthcare Helps Fund 2020 DC Honor Bus Trip for Ohio Veterans
10/07/2019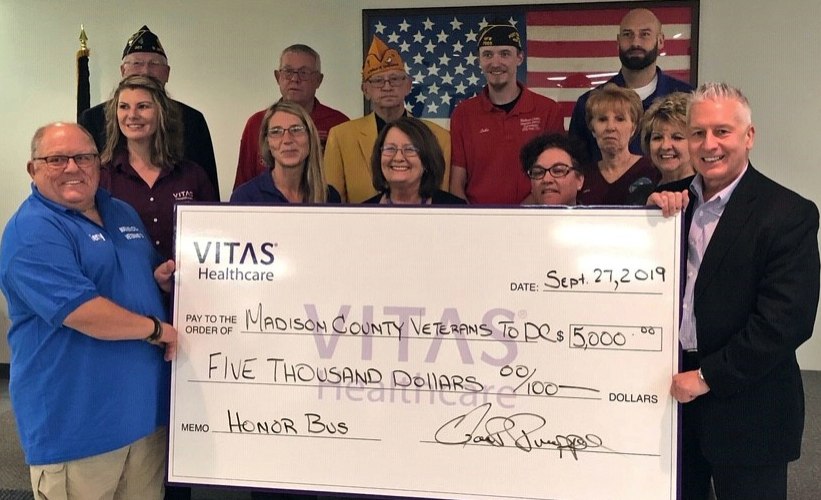 COLUMBUS, OH – The VITAS® Healthcare program in Columbus, OH, donated $5,000 to local veteran organizations to give 26 Madison County military veterans an Honor Bus trip to Washington, DC, to visit their war memorials, many for the first time.
"We want to make sure the veterans are not forgotten, and are appreciated," says Terry Mackey, president of the Honor Bus Committee and retired US Marine.
The trip, planned for three days and two nights in September of 2020, is free to participating veterans of World War II, the Korean War and the Vietnam War. The committee is accepting additional donations to cover hotel, transportation, meals and fees for the veterans. Estimated costs are $300 per veteran and $250 per escort.
Activities for their day in the District of Columbia include a visit to their choice of Arlington National Cemetery, the Iwo Jima Memorial, WWII Memorial, Vietnam Wall or Korean War Memorial, along with lunch and dinner in the nation's capital.
"There is so much more we have in store for the veterans," says Mackey. "We believe this trip will be a great pleasure to them and anyone else who joins us."
Sponsors of the Honor Bus trip include the Madison County (Ohio) Veterans Association, American Legion Post 201 and VFW Post 7005.
VITAS Healthcare honors the men and women who served this nation and recognize the unique experiences of veterans as the end of life approaches.
Download and share our Veterans Resource Guide.