VITAS Healthcare Relocates and Expands Orange County Office
08/04/2016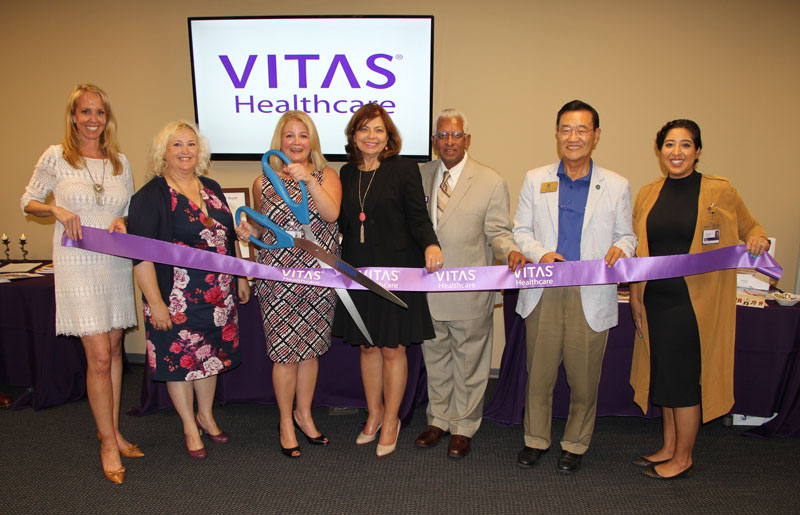 Above, from left to right: Tanya Brown – VITAS Community Liaison, Sherrie Montgomery – VITAS DMD, Belinda Hodge RN – VITAS General Manager, JoAnn Mack – VITAS SVPO, Dr Chalat Rajaram MD – VITAS Medical Director, Mayor Steven Choi - Mayor, City of Irvine, &Leslie Frausto – VITAS Executive Assistant
Irvine, CA – VITAS Healthcare, the nation's leading provider of end-of-life care, has announced that the company moved its Orange County office to a larger space at 310 Commerce, Suite 200, Irvine, CA 92602. The new office encompasses 15,000 square feet, which will accommodate the 243 employees based out of it plus new employees joining the company this year.
VITAS Healthcare Orange County staff members and executives were joined at a ribbon-cutting ceremony and open house on August 3, 2016 by local dignitaries, business and community leaders. The Irvine Chamber of Commerce presented VITAS with a plaque proclamation for its more than 20 years of continued commitment to the community.
"We are honored to have VITAS Healthcare as a member of the Irvine Chamber of Commerce. It's with such caring and compassion that VITAS adds value to the community and the countless families they have served during difficult life stages," said Tallia Hart, president and CEO of the Irvine Chamber. "The expansion VITAS Healthcare has undergone is a testament to their success as a leader in hospice and palliative care."
At the ceremony and open house event, VITAS also created a virtual patient room and highlighted some of the innovative therapies it offers its patients, including pet and music therapy. Attendees were able to see and learn about the unique, first-class services and offerings available to VITAS patients.
"VITAS first opened here in 1995 with 123 employees and we are thrilled that we have since doubled our local workforce," said VITAS Healthcare of Orange County General Manager Belinda Hodge. "As we continue to grow in Orange County, our new office space will enable us to accommodate more employees and most importantly, we will now have the capacity to serve even more patients in our community."
VITAS' office was previously located at 220 Commerce Suite 100. Currently, it serves more than 400 patients a day in Orange County.
VITAS has nine hospice programs throughout California specializing in end-of-life care. For more information, visit http://www.vitas.com/ or call 714-921-2273.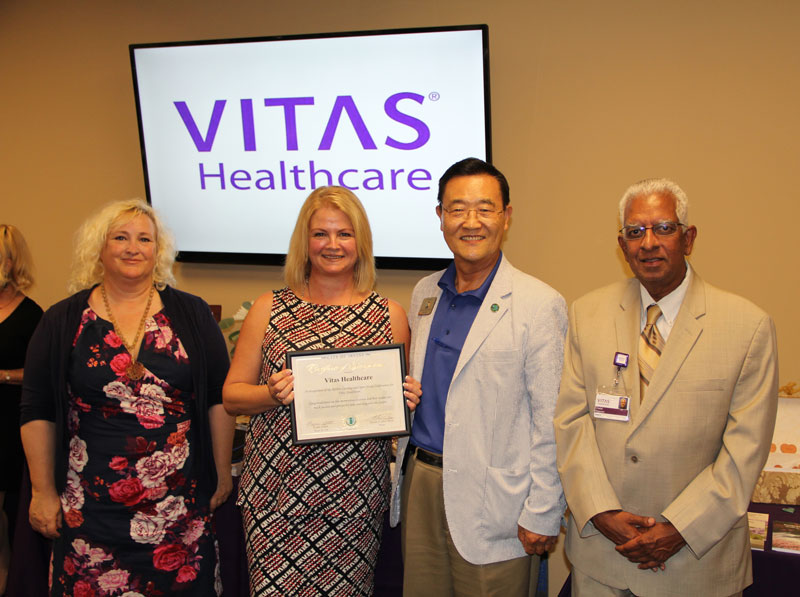 Above, left to right: Sherrie Montgomery – VITAS DMD, Belinda Hodge RN – VITAS General Manager, Mayor Steven Choi - Mayor, City of Irvine, Dr Chalat Rajaram MD – VITAS Medical Director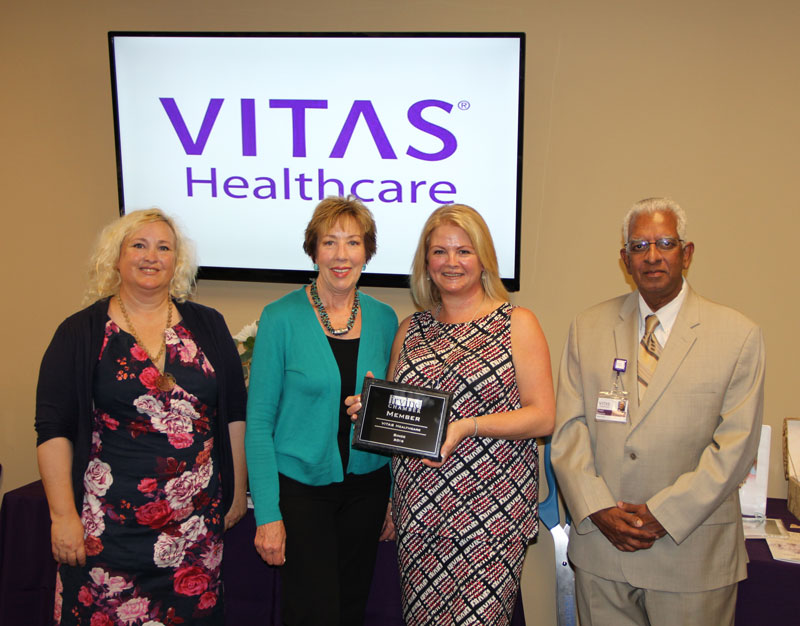 Above, left to right: Sherrie Montgomery – VITAS DMD, Linda DiMario - Vice President, Economic Development & Tourism, Irvine Chamber of Commerce, Belinda Hodge RN – VITAS General Manager, Dr Chalat Rajaram MD – VITAS Medical Director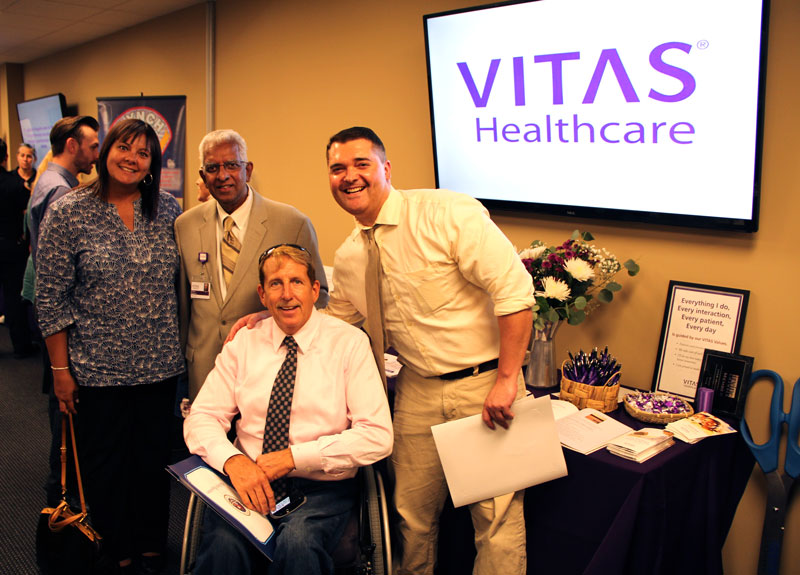 Above, left to right: Dr Nermine Morcos MD – VITAS Physician, Dr Chalat Rajaram MD – VITAS Medical Director, Scott Voigts – Senior Advisor to California State Assemblyman Donald P. Wagner, David Taylor - Senior Field Representative for State Assemblyman Matthew Harper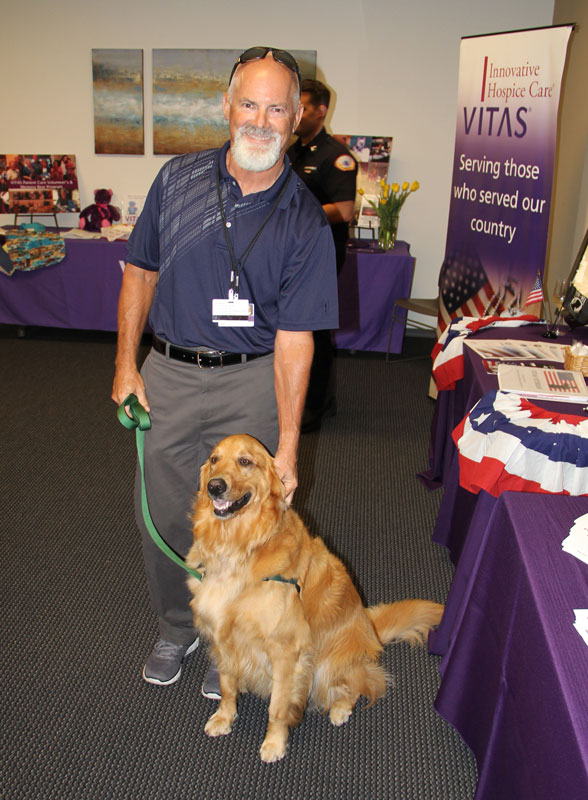 Above: VITAS Volunteer Steve Booth and Paw Pal Volunteer "Henry"