VITAS Healthcare Receives 'President's Lifetime Achievement Award' From the Minority Chamber of Commerce
11/22/2014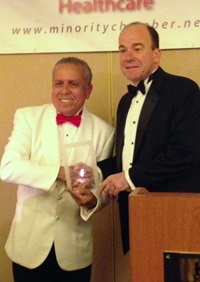 VITAS Healthcare, the nation's leading provider of end-of-life care, was presented with the "President's Lifetime Achievement Award" from the Minority Chamber of Commerce (MCC) in Washington D.C. during its 14th Annual Minority Awards Gala.
The gala, which honors companies and individuals who actively strengthen and grow the diversity sector in the local and international business community, recognized VITAS with this distinguished award for the high-quality end-of-life care it has provided since 1978 as well as its ongoing efforts to ensure that people in underserved and diverse communities can access these much-needed services.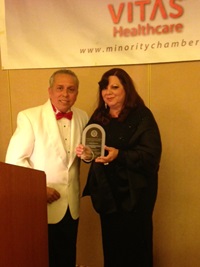 VITAS Executive Vice President Ron Fried accepted the award on behalf of VITAS.
The MCC also presented VITAS Community Liaison Maria Hidalgo with the "National Community Woman of the Year" award. Hidalgo was selected based on her meaningful contributions and tireless efforts to educate South Florida's diverse community about the benefits of end-of-life care.