VITAS Healthcare Opens Conference Room to Local Community for Its First Anniversary in Millsboro
08/27/2018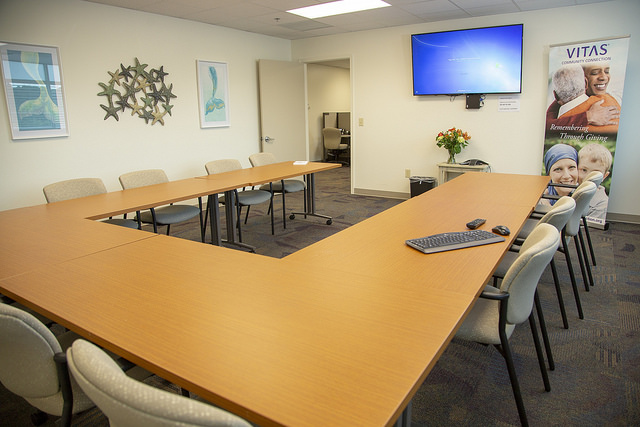 The conference room at VITAS in Millsboro comfortably seats 20 around the conference table or 50 seated in classroom style.
Millsboro, DE – VITAS Healthcare, the nation's leading provider of end-of-life care, is celebrating the first anniversary of its Millsboro office, located at 30265 Commerce Drive, Suite 202, Millsboro, DE 19966. As part of the August celebration, VITAS announced that its conference room is available and free of charge for local community groups.
"VITAS is part of this community, and we want everyone to feel welcome here," says Melissa McNally, VITAS general manager. "We are committed to be a resource for patients and families seeking compassionate, quality end-of-life care. And we're excited to extend the use of our community conference room for group meetings to strengthen our community bonds. We're proud to make our resources available here in Millsboro."
Learn more about hospice care in Millsboro.
The Millsboro conference room can be configured in any way needed, comfortably seating 20 around the conference table or 50 seated in classroom style. Anyone interested in visiting the conference room should contact Sarah Conway or Alfreda Sample at (302) 451-4000 to schedule an appointment. The room is available by reservation from Monday through Friday, 9AM – 5PM, with consideration for evening and weekend hours by request. Ample parking is available at no cost.
VITAS will continue to use the conference room to host community bereavement groups led by the company's trained bereavement managers. It is also the venue for training local VITAS volunteers on how to talk to, listen to and support terminally ill patients and their loved ones.
To kick off the official first use of the community conference room, VITAS invited community guests and local elected officials for an exclusive open house to unveil the room on August 22. Although patient care usually happens in the patient's home, nursing home or assisted living community, at the open house members of the VITAS team demonstrated the variety of services VITAS offers its patients, including patient care, bereavement services, specialized care for veterans, music therapy, spiritual care and volunteer services.
Special guests included State Representative Ruth Briggs King, Ray Fulkrod and Audrey Clark of Nanticoke Memorial Hospital and Physician Network, Jymayce Wescott from the Office of U.S. Senator Tom Carper, and Linda Murray-Davies from Atlantic Shores Rehabilitation & Health Center.
VITAS began serving patients in Delaware in 2005, with its first office in Newark. VITAS cares for approximately 200 patients daily in Delaware and 17,700 nationally across 14 states and the District of Columbia. VITAS was established in 1978 in South Florida. This year, the company celebrates its 40th anniversary.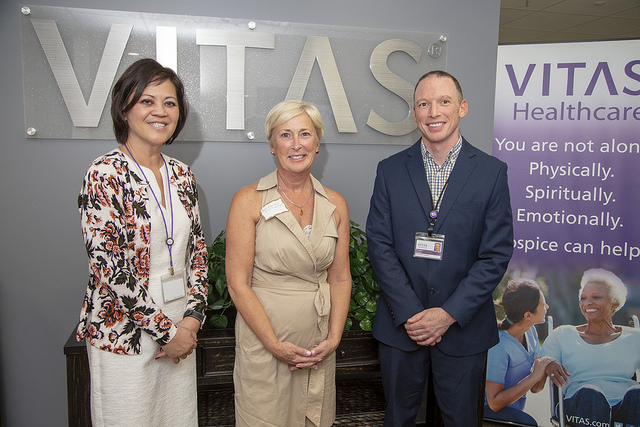 State Representative Ruth Briggs King (center) welcomed a tour of the Millsboro facility by VITAS general manager Melissa McNally and vice president of operations Keagan Brown.