VITAS Healthcare Offers Atlanta's First Virtual Reality Honor Flight
06/19/2018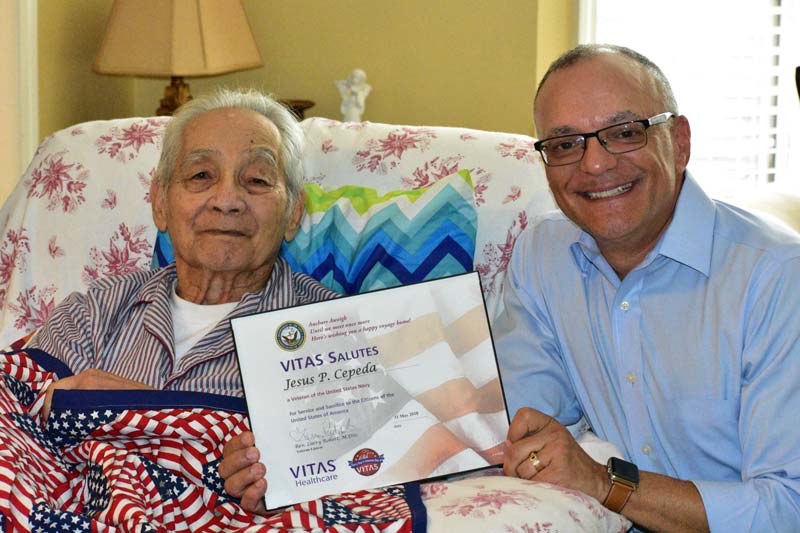 Reverend Larry Robert, bereavement services manager and veteran liaison for VITAS Healthcare in Atlanta, presents Jesus Cepeda with a certificate honoring his service and sacrifice as a U.S. Navy veteran.
Atlanta, GA, June 19, 2018 – Jesus Cepeda of Lawrenceville, GA, is a 97-year-old U.S. Navy veteran of WWII and survivor of Pearl Harbor, who, like countless other aging veterans, never visited the war memorials built in their honor in Washington, D.C. Today, Cepeda has visited those memorials, thanks to VITAS and virtual reality.
The Honor Flight Network sends veterans from around the country to the nation's capital at no cost to visit and reflect at their war memorials. Unfortunately, some veterans are unable to make the trip due to mobility issues or terminal illness.
VITAS® Healthcare, the nation's leading provider of end-of-life care, is committed to serving the men and women who sacrificed so much for our county. If some veterans are unable to visit the memorials, VITAS wants to bring the memorials to the veterans. The company purchased virtual reality headsets to share the Honor Flight experience with its home-bound patients.
Through pre-recorded visits led by retired military tour guides, veterans in VITAS' care visit the WWII Memorial, Korean War and Vietnam War memorials, Women's Memorial and Arlington National Cemetery in 3-D virtual reality.
A quiet gentleman, Jesus Cepeda didn't say much during his virtual tour, but he was enthralled. His family stood close by and watched. "Thank you for making him feel so very special. He was not feeling well that morning, but after [the experience], he was all smiles!"
Cepeda was the first hospice patient in Atlanta to take the tour virtually. VITAS expects to incorporate this innovative approach with its veteran hospice patients throughout Georgia and other states where VITAS operates.
"It's important to allow veterans, especially combat veterans, to express their feelings and come to terms with their war experience," explains Reverend Larry Robert, MDiv, VITAS bereavement services manager and veteran liaison in Atlanta. "At VITAS we understand that talking about everything a veteran has dealt with allows them to make peace with the past and share their legacy and what they have sacrificed with others."
Learn more about hospice care for veterans.