VITAS Healthcare Celebrates 40 Years of Hospice Care
07/30/2018
MIAMI, FL – VITAS Healthcare, the nation's leading provider of end-of-life care, is celebrating four decades of compassionate care for hospice patients and their families. Founded in 1978 in Miami, VITAS was one of the nation's first hospice programs.
The company's story began in 1976, when Hugh Westbrook, an ordained United Methodist minister, and Esther Colliflower, a registered nurse, saw a gap in the treatment of people with terminal illnesses.
Shortly after establishing their hospice company in 1978, they met Don Gaetz, a Florida hospital administrator who teamed up with them to pass, in 1979, the first-in-the-nation hospice licensure law, which defined hospice care in Florida. It immediately became a model for other states and the federal government.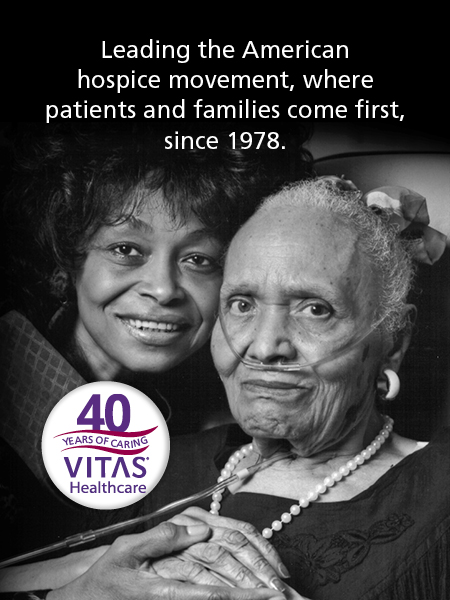 VITAS was part of the Medicare National Hospice Demonstration Project, which led to the passage of hospice reimbursement legislation in 1982. As a result, Medicare, Medicaid, and virtually all private insurers and managed care plans provide coverage for hospice patients.
In the more than 40 years since Westbrook and Colliflower cared for their first patient, VITAS has continued to lead the American hospice movement, committed to finding and closing gaps in end-of-life care. VITAS ensures that terminally ill patients of all walks of life and their families have access to compassionate and high-quality hospice care. Since its founding, VITAS has cared for more than 1.6 million patients.
Today almost 12,000 VITAS professionals provide care to more than 17,700 patients daily in 14 states and the District of Columbia. VITAS employees are the hearts, hands and experts of the VITAS way of doing hospice. They are the reason families have invited VITAS into their homes for 40 years. This company culture is the reason many VITAS employees have been with the company since the early '80s.
VITAS employees are committed to the company's values, which are as true today as they were when they were written:
Patients and families come first.
We take care of each other.
I'll do my best today and do even better tomorrow.
I am proud to make a difference.
"The opportunity to provide dignity to people at the end of their lives is more than our work—it is our calling," says Nick Westfall, CEO of VITAS Healthcare. "The growth of our organization is a reflection of our adherence to the VITAS values and the deep commitment and dedication of every employee, from the visionaries who founded this company to those who provide compassion and care every single day. I'm so proud of the work we do and the individual and team contributions that makes VITAS so special for our patients and their families."