VITAS Grants Treasure Coast Food Bank $45,000, Supports Families Impacted by COVID-19
March 30, 2020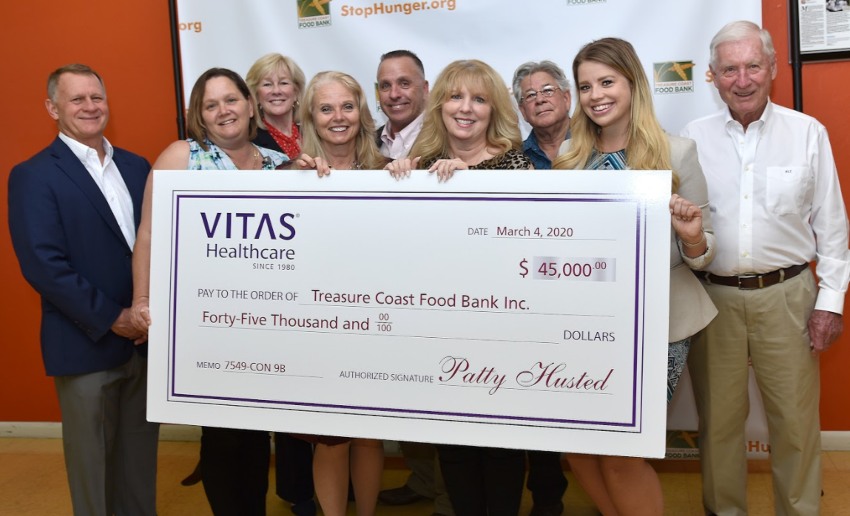 FORT PIERCE, FL – VITAS Healthcare presented a check for $45,000 to the Treasure Coast Food Bank on March 4, 2020. A significant portion of the funds are being used to support seniors and families in need of food assistance in response to the COVID-19 national emergency. As an end-of-life care provider in the Treasure Coast, VITAS is dedicated to the community by helping the food bank support those in need.
"Since its founding, hospice care has specialized in meeting the physical, spiritual and psychosocial needs of our patients and families," said Susan Acocella, general manager for VITAS Healthcare. "Hunger and food insecurity are two pressing issues that have a direct impact on patient health and well-being. Through this donation to the Treasure Coast Food Bank, VITAS is supporting a shared mission to ease anxiety and improve the health of our most vulnerable residents, neighbors and patients – especially during this unprecedented time."
Treasure Coast Food Bank is the largest hunger-relief organization on Florida's Treasure Coast, serving Indian River, Martin, St. Lucie and Okeechobee counties.
VITAS Healthcare is the leading provider of end-of-life care in the US with over 40 years of experience in hospice care. Serving the Treasure Coast since 2019 with offices in Stuart and Port St. Lucie, VITAS provides quality compassionate care to patients with advanced illness wherever they call home throughout Martin, Okeechobee and St. Lucie counties.
How is VITAS responding to the coronavirus pandemic?