VITAS of Volusia Senior General Manager Recognized as Ambassador of Change
07/20/2017
Shanda Nobles-Milton, senior general manager for VITAS Healthcare of Volusia/Flagler, was recognized as a Community Leader at the Ambassadors of Change luncheon on Thursday, July 20, 2017 at Majestic Life Church Event Center.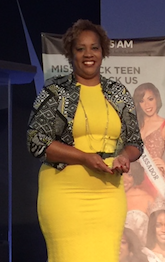 Hosted by Ambassadors of Change INC. (AOC), the luncheon honors community leaders who have made significant contributions to the areas of health and wellness, leadership, community involvement and women empowerment. Nobles-Milton's leadership and commitment to providing high quality end-of-life care to the community earned her this recognition. In addition to providing leadership to the VITAS of Volusia/Flagler staff of hospice professionals, Nobles-Milton recently received a proclamation by Palm Coast for her leadership of the VITAS program and involvement in her community, exemplified by her role in the Gone Too Soon basketball tournament benefitting inner-city youth affected by the loss of loved ones due to gun violence.
"I'm so honored to be recognized as a role model to young women across the country," said Nobles-Milton. "It has been my privilege to serve the community through VITAS and I will continue to lead my team as we provide quality care to hospice patients in Volusia County."
AOC is a non-profit organization aiming to make a difference in underserved communities by providing educational forums and events focusing on health disparities, poverty, violence and other major issues. The organization also provides young minority women with scholarship opportunities and a chance to surround themselves with like-minded women to discuss topics like STEM and financial literacy.