VITAS Celebrates National Hospice & Palliative Care Month 2017
11/01/2017
In 1982, President Ronald Reagan signed into law the Medicare Hospice benefit, ensuring that millions of seriously ill Americans could die with dignity, in their own homes and in relative comfort, cared for by palliative care specialists.
That same year, the president also declared a National Hospice and Palliative Care Week. That recognition of hospice has grown along with hospice, and we now celebrate all of November as National Hospice and Palliative Care Month.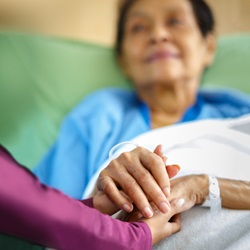 VITAS Is a Pioneer in the Hospice Movement
In 1978, Hugh Westbrook, a Methodist minister, and Esther Colliflower, a registered nurse, partnered to found the organization that would later be named VITAS Healthcare. Hugh and Esther envisioned a way to care for people with terminal illness that promoted acceptance of and education about death and dying.
VITAS continues to ensure that hospice is accessible to anyone who needs it. Today, VITAS serves more than 16,000 patients daily throughout 14 states and the District of Columbia. VITAS patients receive patient-centered, multi-faceted care delivered by a physician, nurse, hospice aide, chaplain, social worker, volunteer, bereavement specialist and other professionals, as needed.
VITAS is proud to be part of an ideal that promotes quality of life until the end of life.
You can make a difference through hospice care as a VITAS employee or volunteer.