National Healthcare Decisions Day 2018
04/16/2018
"Talk About It. Write it Down. Share It." That's the theme VITAS has adopted to recognize National Healthcare Decisions Day on Monday, April 16, 2018.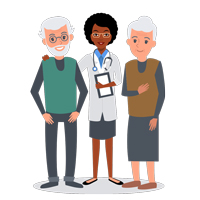 And because talking about end-of-life care is too important to limit to just one day, VITAS will leverage the theme throughout 2018 to encourage patients and physicians to have frank, open conversations about advance care planning (ACP).
ACP addresses common issues and decisions. Do you want to be resuscitated if you stop breathing? Would you want artificial feeding instituted, or would you refuse nutrition and hydration if the end of life is imminent? Do you want specific music played at your funeral? Will you be buried or cremated?
ACP ensures that:
your wishes about care are written down and communicated to your family and doctors.
someone has been designated to make decisions for you if you are incapacitated or unable to communicate; this person is referred to as your healthcare proxy or agent, your durable power of attorney for healthcare decisions.
End-of-life conversations aren't easy, but they are important to have sooner rather than later. As the NHDD's 2018 campaign points out, "It always seems too early, until it's too late."
For more VITAS information, please visit HospiceCanHelp.com.
More Info: