Martha's House Receives $12,500 to Support Victims of Domestic Violence in Okeechobee County
November 5, 2020
OKEECHOBEE, FL — Victims of domestic violence in Okeechobee County, Florida, continue to have access to housing, resources and 24-hour assistance, thanks to a $12,500 donation by VITAS Healthcare to Martha's House emergency shelter.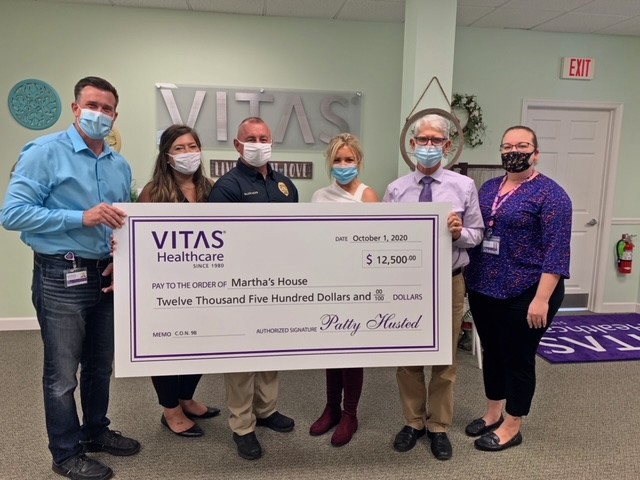 The 24-bed shelter in Okeechobee County served more than 300 women, children and men in 2019, providing them with much-needed temporary housing, legal assistance, violence prevention education, counseling, financial assistance and other services.
"This grant from VITAS is part of our commitment to provide aid to those in need of housing assistance in our Treasure Coast community," said Susan Acocella, general manager for VITAS. "We are proud to support organizations like Martha's House that help women, their children and men survive and overcome the challenges of domestic violence and abuse."
Funds from the donation will cover operating and personnel expenses for the 24/7/365 shelter, which provides residents—primarily women and children who are escaping domestic violence—with a safe place to stay, food, clothing, laundry facilities and access to self-help resources.
"This donation could not have come at a better time," said Jonathan Bean, executive director of Martha's House. "We are so thankful for the generosity of VITAS Healthcare. Like so many other community-supported organizations, Martha's House has suffered financial shortfalls due to the COVID virus. These funds will go to assuring the continuance of our shelter operations for the many women and children who seek safety with us each year. Domestic violence is unacceptable, and our hope is to eliminate this dangerous, deadly blight on our families and friends in Okeechobee. We're pleased to have VITAS as a community partner."
Martha's House opened in 1988 and remains the only certified domestic violence shelter in the county.
Serving Okeechobee, Martin and St. Lucie counties since 2018, VITAS delivers compassionate, comfort-focused care to patients and their families wherever they call home. For information about VITAS hospice care, contact the Treasure Coast office at 772.281.5293, available 24/7/365.
For media inquiries: