VITAS Innovative Hospice Care Appoints Lisa Cooper as General Manager in San Francisco
01/29/2014
SAN FRANCISCO – January 28, 2014 – VITAS Innovative Hospice Care, the nation's leading provider of end-of-life care, today announced that Lisa Cooper has been appointed General Manager in San Francisco. In this role, Cooper will manage the program's business operations throughout the San Francisco Bay area, including San Francisco, San Mateo, Santa Clara and Alameda. Cooper, who will manage a daily census of approximately 600 patients and more than 350 staff members, will work closely with VITAS' healthcare partners in San Francisco to provide high-quality care to patients and families.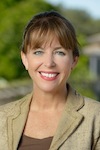 "I am honored and excited for the opportunity to serve as a local VITAS advocate and leader in San Francisco," Cooper said. "I share VITAS' vision of putting patients and families first and look forward to supporting its mission to ensure access to high-quality, compassionate end-of-life care."
Cooper, a registered nurse and certified operating room nurse, has extensive healthcare management experience that includes serving as CEO of Santa Cruz Surgery Center, President of the Surgery Center at Samaritan Medical Center, and President of El Camino Surgery Center.
"Lisa's strong clinical background and management experience will bring significant value to our San Francisco Bay program, particularly as we continue to grow in response to an increasing demand for our services," said Vice President of Hospice Operations Brian Davis.
Cooper's professional involvement includes currently serving as Education Chair and Board Director for California Ambulatory Surgery Association.