Support from VITAS Healthcare Helps Eustis Join the Ranks of Purple Heart Cities Honoring Veterans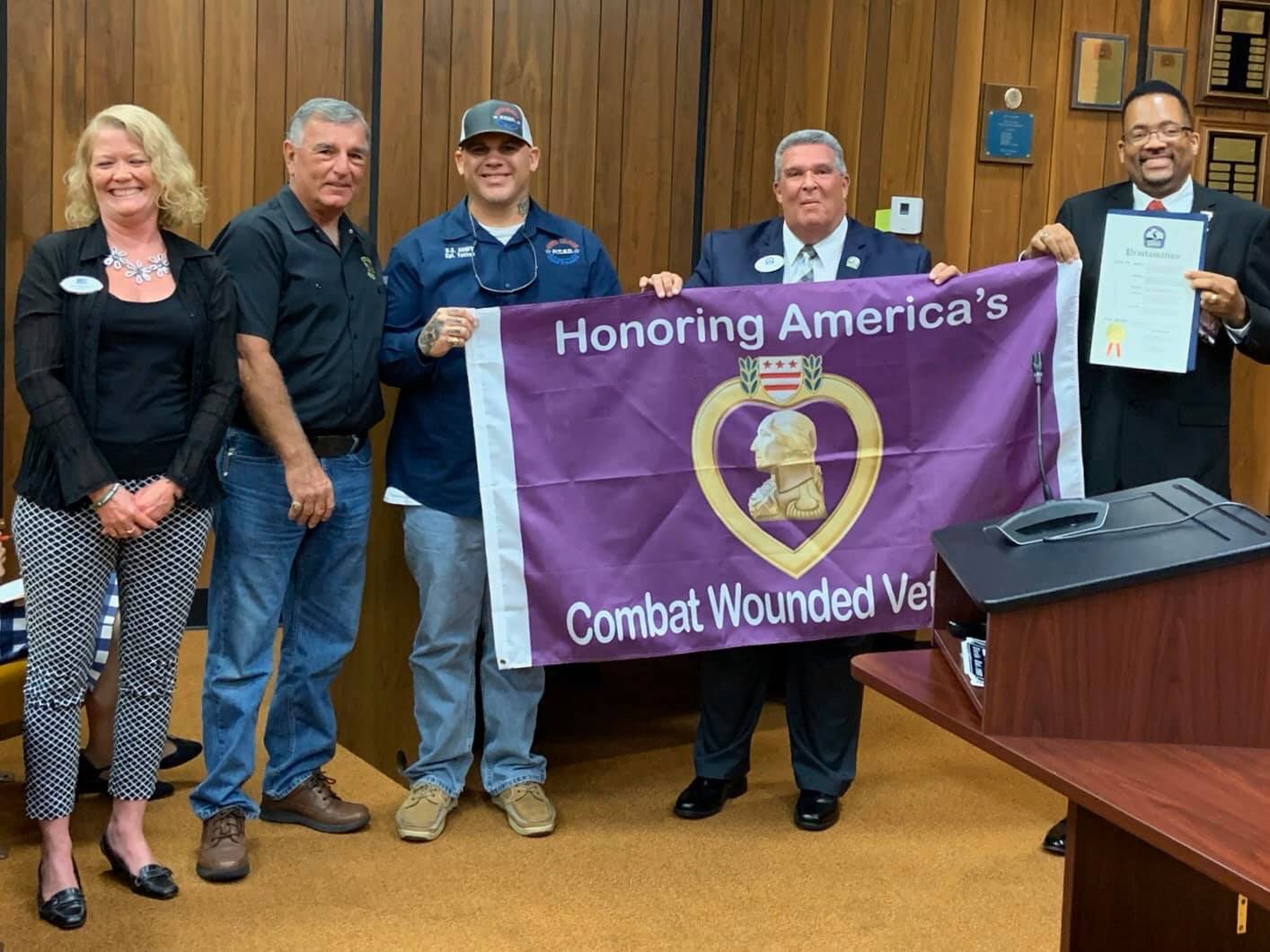 11/6/19
EUSTIS, FL – Thanks to guidance and inspiration from VITAS Healthcare, the nation's leading provider of end-of-life care, Eustis, Florida, has joined the ranks of veteran-supporting Purple Heart cities.
During the city's October 17 commission meeting, Mayor Michael Holland read a proclamation establishing Eustis as a nationally designated Purple Heart city by the Military Order of the Purple Heart. Holland also received a Purple Heart City flag from VITAS Admission Liaison and veteran expert Thomas Spencer, a 15-year U.S. Army veteran and member of the military order.
Spencer approached Eustis officials earlier in 2019 with the idea of timing the Purple Heart designation with the community's Vet Fest activities October 31-November 4 and its week-long display of The Vietnam Traveling Memorial Wall. At VITAS, his outreach to hospice patients and families includes specialized services and recognition for veterans and their unique end-of-life needs.
"It's always an honorable day when veterans get acknowledged for service to their country, especially when the honor is for those who were wounded or died in action," says Spencer, who was awarded the Purple Heart for injuries he received during his Desert Storm deployment. "A lot of veterans were in the audience for the proclamation, and they were touched by the ceremony."
October 17 will be celebrated annually in Eustis as Purple Heart Day and the city has been entered in the Purple Heart Trail, a registry of participating communities. Eustis is located in Lake County, which is a Purple Heart county.
Spencer joined the VITAS Lake-Sumter team in 2018 and has helped it achieve Level Four partner status with We Honor Veterans, a program spearheaded by the National Hospice and Palliative Care Organization that supports veteran-specific care, recognition and support by hospice and other healthcare providers.
Spencer currently is working for similar Purple Heart designations for Clermont, Leesburg and Tavares, all in Lake County.
Download and share our Veterans Resource Guide.