AT&T and VITAS Healthcare Launch Virtual Reality Study for Hospice Patients
02/12/2019
ORLANDO — AT&T and VITAS Healthcare, the nation's leading provider of end-of-life care, have launched a study that intends to combine 5G with virtual reality/augmented reality (VR/AR) to test if it can help reduce chronic pain and anxiety for certain hospice patients. The study aims to assess a potential alternative therapy that is easier for caregivers to implement at a time and place that makes the patient most comfortable during this most difficult time.
This mobile solution, using immersive technology is a good use case for testing the potential for 5G speeds and low latency to help patients and families in need.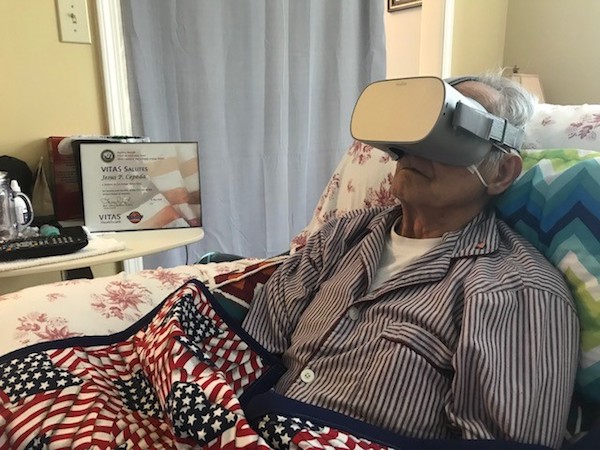 "We're always looking for opportunities to enhance the patient experience and bring comfort to our patients and their families as they receive end-of-life care," said Patrick Hale, Chief Information Office of VITAS Healthcare. "We not only chose AT&T for its technology expertise, but for its vision to use technology to help improve care. Our goal is to eventually expand VR/AR capabilities to our hospice patients across the country that could benefit from them."
The study, launched in January 2019 at a nationally recognized cancer center in Southern California, evaluates multiple aspects including patient feedback, VR/AR content effectiveness and technology delivery options. The first module will focus on the effect of the content toward enhancing a patient's comfort level through the VR/AR experience. For example, to help calm an anxious patient they might take a virtual walk through a field along a tranquil stream or even journey to Machu Picchu in Peru.
"As a pioneer of the hospice benefit, VITAS remains committed to improving patient well-being near the end of life through pharmacologic and non-pharmacologic treatments," said Dr. Joseph Shega, Senior Vice President and Chief Medical Officer of VITAS Healthcare. "VR/AR has the potential to be a new alternative therapy that will hopefully benefit patients by decreasing symptom burden while increasing quality of life. Moreover, the technology could offer a unique opportunity for patients and families to do things virtually that were previously not possible in a physical sense, such as traveling to remote destinations together."
The second module will focus on making the content mobile. Hospice patients are often cared for in their homes. Large video files will therefore need to be downloaded or streamed remotely. The technology aspect of the study will demonstrate how on-demand downloading and streaming of content might be supported over mobile networks including 5G.
AT&T will provide the necessary services throughout the study including the video content and mobility network. Study participants will view content via Magic Leap One Lightwear headsets. Eventually, the headsets will be taken to a field location in one of the AT&T 5G cities. A 5G mobile hotspot will be used to test content download and streaming over 5G.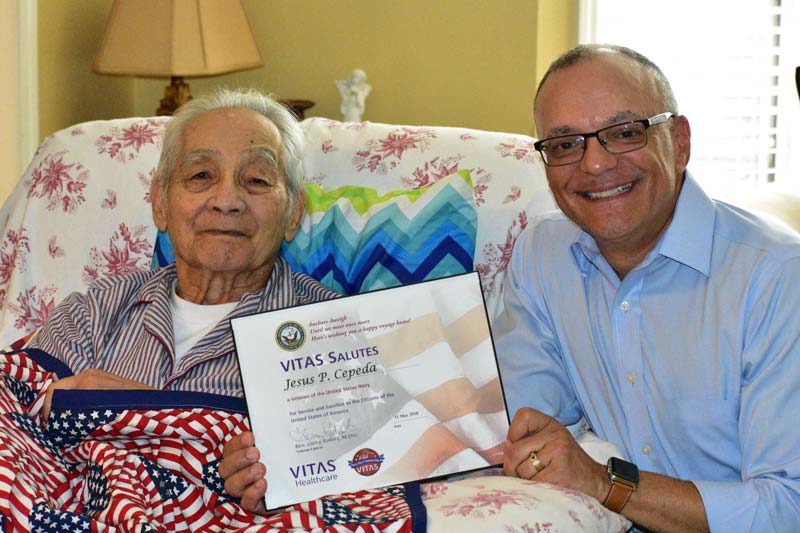 "Our work with VITAS demonstrates the digital transformation taking place in another important part of the healthcare spectrum. Providers are trying to use technology in unique ways to improve care for their patients," said Mo Katibeh, Chief Marketing Officer, AT&T Business. "The use of immersive technologies exemplifies another need for making 5G access a reality."
This study with VITAS, along with the recent announcement with Rush System for Health, demonstrates the steps AT&T is taking to prepare customers for potential healthcare benefits derived from 5G.
About AT&T and VITAS Healthcare
Four years ago, AT&T Mobility solutions enabled VITAS to deploy a mobile strategy that transformed VITAS' admission staff with their work flow and increased their time spent with patients and families. VITAS admissions staff who received a mobile workstation reduced the number of hours spent training on our system from 20+ hours, to just one hour. The mobile workstations also reduced the amount of time VITAS staff spent on the phone coordinating the logistics of next stages of care by 30 percent, thereby increasing more time at the bedside with patients and families. Approximately 88 percent of patients were admitted to VITAS's care via a mobile device since the launch of the mobile strategy. AT&T is also helping VITAS digitize more of its processes, which will bring the company closer to being completely paper­less and more automated.
To access AT&T Healthcare Solutions, go to att.com/business/healthcare.
To learn more about VITAS Healthcare, please visit www.vitas.com.