At VITAS, 4,700 Reasons to Celebrate National Nurses Week
05/06/2019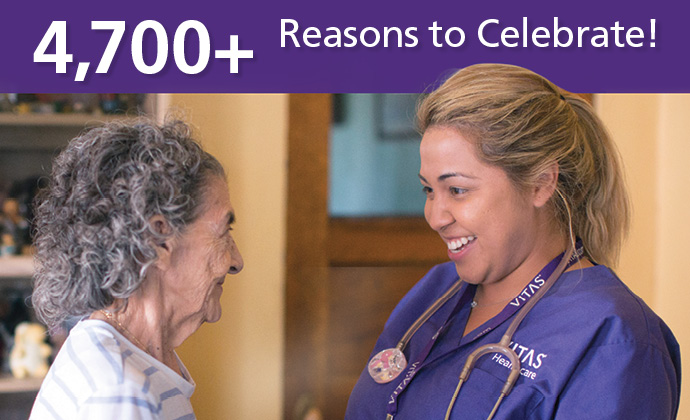 Around the US, National Nurses Week (May 6-12, 2019) brings "4 Million Reasons to Celebrate," a nod to the 4 million nurses nationwide who care for patients every day.
At VITAS, we have "4,700 Reasons to Celebrate." It's a proud recognition of one of the largest groups of VITAS employees, comprising over a third of the company: the registered nurses, licensed practical nurses and admissions nurses who care for our hospice patients and their families 24/7.
Because most hospice care is provided at home, wherever patients call home, VITAS nurses perform numerous roles: healthcare provider, educator, listener, communicator and vital liaison to the other members of the hospice team.
A Day in the Life of a Hospice Nurse >
Nurses make sure that each patient's hospice physician, social worker, aide, chaplain and volunteer are on the same page as they provide medical, spiritual and psychosocial support to patients, their families and caregivers.
VITAS nurses also staff our Telecare phone lines so that patients and families can talk to a clinician whenever a crisis arises, whether it's the middle of the night or on a holiday weekend. They provide information, solutions and reassurance, and if the crisis is serious enough, they can dispatch a fellow clinician to the patient's bedside to provide care and support until symptoms resolve.
National Nurses Week is the perfect opportunity to celebrate and say "thank you" to nurses nationwide who are key contributors to healthcare delivery.
At VITAS, we thank all 4,700 nurses who make us the nation's leading provider of end-of-life care.
Join our team of passionate hospice professionals.