What is the Difference Between Home Health & Hospice Care?
Medicare-Funded Home Services: Comparing Hospice and Home Health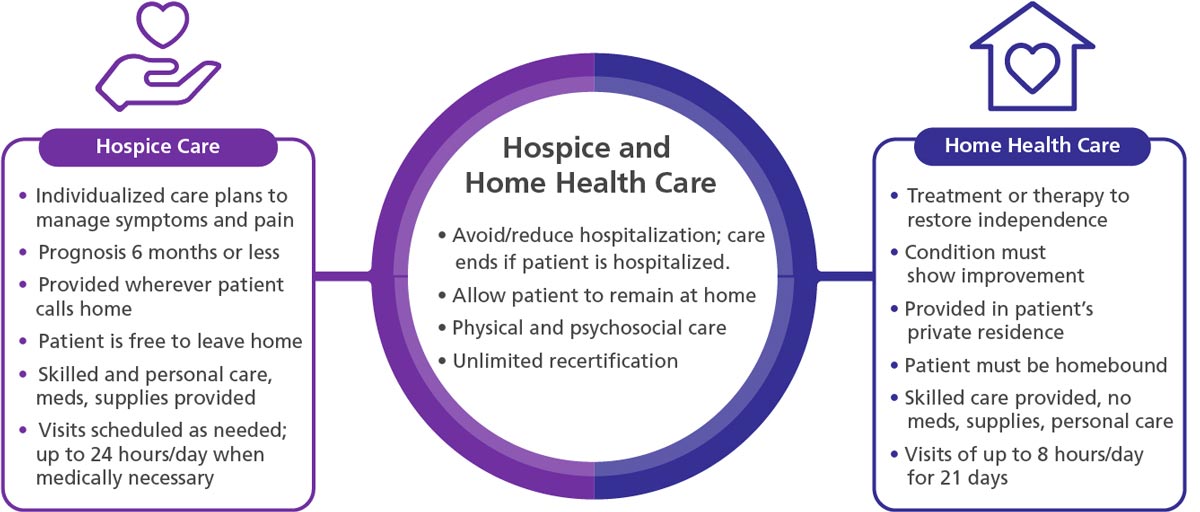 VITAS is the leading provider of hospice care services — end-of-life care brought to each patient wherever they call home. We often get asked how hospice services compare to home health.
Similarities Between Hospice and Home Health
Hospice and home health care share some similarities, but the two approaches to care address distinct patients with unique needs and goals. For instance, hospice and home health services both occur wherever the patient calls home.
Hospice provides comfort care to a patient with advanced illness when curative medical treatments are no longer effective or preferred. Home health care is curative, intended to help patients recover from injury or illness, or progress toward improved functionality.
Learn more about the differences between home health and hospice care in the sections below.
Hospice
Hospice care is comfort care for patients with a prognosis of six months or less if their disease runs its natural course, as certified by a physician.
Routine hospice care takes place wherever the patient calls home—a private residence, nursing home, assisted living community, or residential care facility for the elderly. Daily care is provided by a family caregiver (or friend) and supported by an interdisciplinary team of hospice experts: nurse, aide, physician, chaplain, social worker, volunteer, and bereavement counselor, with additional specialists stepping in to help as necessary. All of the team members specialize in compassionate end-of-life care.
In addition to routine hospice care in the home, three other levels of care are mandated by the Medicare Hospice Benefit:
Continuous care (we call it Intensive Comfort Care® at VITAS) involves around-the-clock attendance at a patient's bedside by a nurse or hospice aide to manage acute symptom flare-ups per Medicare guidelines.
Inpatient care is temporary care in an inpatient hospice unit or hospital bed until symptoms are under control and the patient can return home.
Respite care transitions the patient temporarily to inpatient care in a Medicare-certified facility to give family caregivers a break of up to 5 days and nights to relieve stress and avoid burnout.
Common hospice services include:
Home Health
Home health care provides services that are brought to patients who require intermittent skilled nursing care, physical therapy, speech-language pathology services, or continued occupational services, as prescribed by their doctor. The patient's progress must be documented.
Home health care is typically prescribed for treatment of a chronic condition or to help a patient recover from surgery or an injury. Unlike hospice, a patient must be homebound to receive Medicare benefits for home health services. The duration of home health services depends on the patient's care plan and goals.
While nearly all hospice patients have zero out-of-pocket expenses related to their terminal diagnosis, home health care patients may be required to pay for medications, supplies, and equipment. Home health services do not cover inpatient stays if symptoms escalate and become unmanageable at home. Family caregivers of home health patients receive training and education, but don't have access to the additional layers of psychosocial support enjoyed by hospice caregivers.
A home health patient can become eligible for hospice as their illness progresses. If you notice the following signs in yourself or your loved one while receiving home health care, ask your doctor about hospice eligibility to relieve symptom burdens and improve quality of life:
Unintentional weight loss of more than 10% of your normal body weight
Palliative Performance Scale score of 50 or less based upon the following assessment of new or evolving inabilities: unable to do any physical activity, spend most or all of your time in a chair or bed, need significant or total help for most of your care, eat or drink less than usual, and are increasingly drowsy, confused, or comatose
Reliance on others for help with three or more activities of daily living, such as bathing, dressing, urine or bowel control, moving from one place to another, walking, and feeding
Considerable decline in mental alertness, memory, and thinking
Difficulty breathing or shortness of breath at rest or with minimal exertion
Ongoing functional decline while living with dementia/Alzheimer's disease
If a patient is eligible to receive Medicare benefits and you or your caregiver are unsure about the kind of care that's most appropriate, learn more about the differences between hospice services and home healthcare below.
FAQ Comparison Between Home Health and Hospice Care
We frequently receive the following questions from patients, family members, and healthcare professionals who are seeking more information on the differences between hospice and home health care. Click each question to learn more about these unique care models. If you have other questions, contact VITAS 24/7 by calling 800.582.9533.
Call VITAS to learn more about hospice and palliative care options.