VITAS Advantage: Case Study on 24/7/365 Care Support for Hospitals
VITAS Case Study: Advanced Lung Cancer Patient
MK* is a 67-year-old, oxygen-dependent ex-smoker who is undergoing chemotherapy and radiation for advanced lung cancer. He comes to the ED in a pain crisis and is admitted for pain control.
His oncologist informs MK's attending that MK has stage IV lung disease and his therapy is now largely palliative. She has also been treating him for nausea, vomiting, constipation, and progressive weight loss. New opioid therapy controls pain in his shoulder and lower thoracic region, but he will need close monitoring and pain management at home.
MK's 66-year-old wife is his primary caregiver. She acknowledges that she struggles at times to assist her husband with daily care and medications. MK is referred to VITAS for hospice care.
MK's individualized hospice care plan includes visits by a VITAS nurse three times a week for symptom and pain management, daily visits by a hospice aide for personal care, ongoing goals-of-care conversations with his VITAS hospice physician, and support from a respiratory therapist. VITAS delivers hospice-related medications, oxygen, supplies, and a hospital bed to his home.
For two days during MK's first week of hospice enrollment, VITAS provides temporary 24-hour bedside care (Intensive Comfort Care®, or ICC), per Medicare requirements, to ease MK's worsening breathing, agitation, pain, and dehydration. Several days after ICC is withdrawn, MK dies peacefully at home surrounded by his wife and grandson.
*These initials represent an anonymized patient and are used for the purposes of education only.
Hospice Relieves Symptom Burden Through 24/7/365 Professional Care
In a review of studies about end-of-life care for cancer patients, the authors of a report in the Journal of Clinical Oncology outline ways hospice helps patients with advanced cancer and their caregivers.
"Hospice care improves symptom control in problems prevalent at the end of life," the researchers explain. Symptom relief for advanced cancer patients nearing the end of life often involves addressing one or more common symptoms, such as:
Breathlessness
Fatigue
Pain
Delirium
"Good analgesia is often the priority for patients and their families above any other symptom," they write, adding that evidence shows hospice provides patients with superior pain management, especially when such care is available 24/7/365.
Delirium, including cognitive changes, hallucinations, and disturbances in sleep/wake cycles, can be treated with excellent nursing care, treatment of any reversible causes, proper hydration and nutrition, and support to help orient the patient, according to the study.
Supportive end-of-life care keeps patients where they and their hospice providers want them to be: at home, surrounded by familiarity and comfort.
Patients are likely to open up about more issues when their care team includes a group of experts, as is the case with the hospice multidisciplinary team approach, the authors explain. "[G]iven the breadth of patient-defined needs at the end of life, several health professionals working collaboratively will be essential to achieve the best possible patient outcomes."
VITAS provides 24/7/365 clinical support in important ways:
As needed, a VITAS clinician can respond in-person to triage, address and stabilize a symptomatic patient at home or in their preferred setting (nursing home, assisted living facility)–even those requiring high-acuity care. This around-the-clock availability helps avoid and reduce 911 calls, ED visits and rehospitalization.
24/7 support improves your institution's quality metrics while reducing lengths of stay and readmission rates.
VITAS's secure mobile app makes hospice referrals even easier for on-the-go clinical hospital staff. Powered by a secure, mobile-first platform, VITAS typically responds to referral requests in under 15 minutes, regardless of day or time.
Source: Currow, D., Agar, M., & Phillips, J. (2020). Role of Hospice Care at the End of Life for People with Cancer. Journal of Clinical Oncology, 38(9), 937-943. DOI: 10.1200/ JCO.18.02235
Is your patient ready for hospice?
Meet the VITAS Hospice Team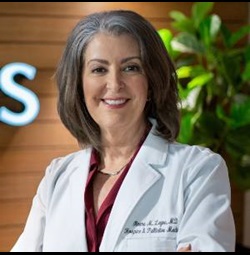 Physician
The physician closely monitors the progression of the patient's illness, prescribes appropriate medications and coordinates care with other members of the team.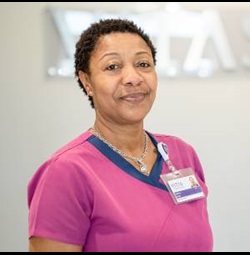 Hospice Nurse
The hospice nurse is skilled in assessing and managing pain and other symptoms. A nurse may also help with personal care.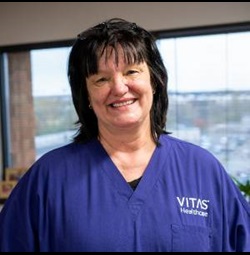 Hospice Aide
Hospice aides provide personal care to the patient. They are also the "eyes and ears" for the rest of the hospice team.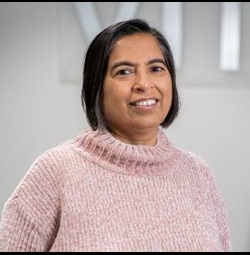 Social Worker
The social worker acts as a friendly and skilled listener and provides emotional support.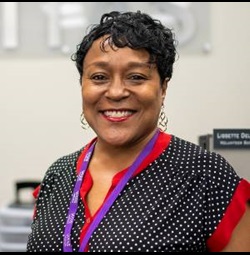 Volunteer
The hospice volunteer can bring music or a Paw Pals animal companion, and spends quality time with the patient and family.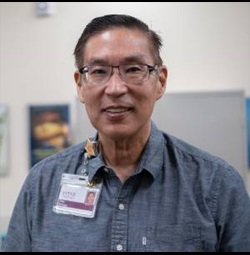 Chaplain
The chaplain ministers to the spiritual needs of patients and families of all faiths, and can work with their clergy.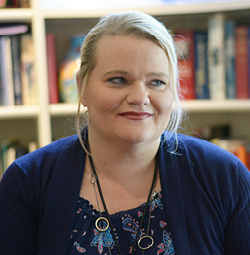 Bereavement Specialist
The bereavement specialist provides grief and loss support to the patient's loved ones.
The VITAS Care Team