Nurses, Working at VITAS
Grow With VITAS: Free Certification for RNs and Team Managers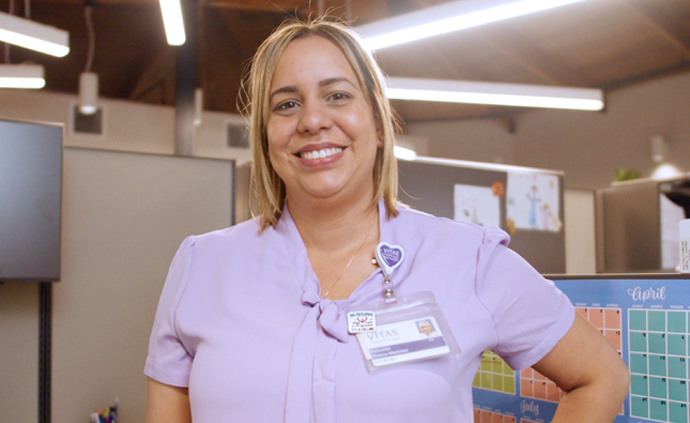 If you are considering a career with VITAS Healthcare, consider this: Registered nurses and nurse team managers enjoy the added benefit of earning free continuing education credits.
These credits also come with an opportunity for financial incentives—and preparation for possible career growth.
"These certifications help clinicians optimize their skills and enhance critical thinking," says Johanna Pedre, vice president of workforce development and training for VITAS. "Because they build leadership skills, the programs help prepare our professionals for growth opportunities here at VITAS."
Pathways to Excellence
The certificate programs, called Pathways to Excellence, provide a convenient way to amplify your influence and sharpen your skills. Rather than requiring days or weeks to complete, the programs take only about one hour per month.
At the same time, you earn next-level certification that stands out to supervisors.
"With enhanced hospice skills, nurses and managers are positioned to provide an excellent patient and caregiver experience," says Pedre. "This delivers long-term, enriching benefits that drive results."
With a fulfilling career that taps into your passion for patient care with the nation's leading hospice provider, your options are limitless.
How the Certification Program Works
Eligible RNs and team managers take three modules per quarter for three years. Each year focuses on a specific topic like clinical excellence, improving the patient and caregiver experience, and leadership development.
The programs help prepare our professionals for growth opportunities here at VITAS.

-Johanna Pedre, VP of workforce training and development
Although the three-year program just began in January, staff are already getting value out of it.
Lisa Serratti, a home care nurse in Miami, said the first quarter's courses were "very informative, and it's very easy to understand. It actually helped me with my last patient."
Amy Freeman, a Senior Admissions Nurse in Palm Beach County, Florida, agreed.
"I found a lot of this information very useful for future conversations with patients and families."
There's also the financial incentive: For each quarter completed, eligible staff earn up to $500, in addition to 12 free continuing education credits annually.
Promise and Possibilities
If you want to accelerate your career, consider joining VITAS! Our culture is built around our VITAS Employee Promise:
Purpose: A mission-driven and fulfilling career caring for patients with advanced illness
Passion: The opportunity to work with people who share your deep caring for the work you do
People: A commitment to focus on employees, the heartbeat of VITAS, and to provide resources that complement their daily work
Possibilities: A caring culture that supports professional growth in an environment equipped with technology and protocols that ensure a safe, productive work experience
Presence: Accessible, approachable, and authentic leaders who have a desire to listen and learn from their employees
A career with VITAS offers:
Opportunities for professional growth and personal development, including community outreach and lecturing opportunities
The ability to focus on patients' needs and comfort
Work-life balance, competitive compensation, and other employee benefits
Education in evidence-based pain and symptom management
Advanced tools and technology to deliver industry-leading care
Want to join VITAS as a hospice registered nurse or team manager? Find opportunities near you at careers.vitas.com.
View all current nursing job opportunities with VITAS.