Working at VITAS
VITAS Team Makes the Difference for WWII Vet's 105th Birthday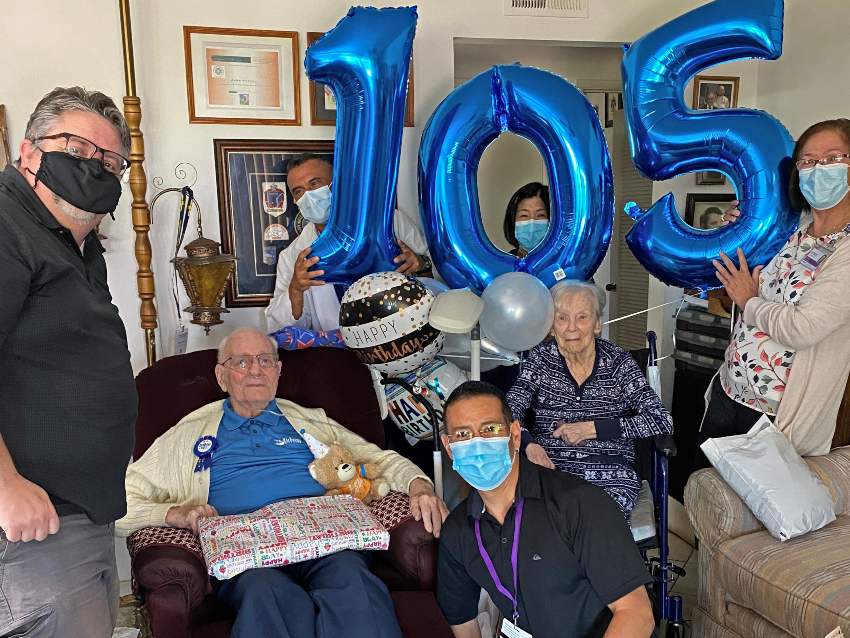 When RN Case Manager Vicky Stein and Volunteer Services Manager Alex Silva realized that one of their patients, John Cantor, was turning 105, Alex immediately thought of throwing a birthday party.
"Not only has he reached the golden age of 105, but he's also living with heart disease," Alex said. "It was important to recognize this achievement and celebrate it."
Going above and beyond to celebrate patients' milestones—birthdays, anniversaries, and loved one's marriages, for example—is one of the highlights of working in hospice care. As VITAS employees will tell you, hospice is about life and how patients choose to live it.
Cards from All Over the Country
For John's birthday, Alex and his teammates in San Diego quickly got to work: Cupcakes, balloons, and decorations were all on the list of party favors. To round out the occasion, Alex set a goal of giving John 105 birthday cards. To accomplish this, he sent out an email to staff, and cards began to slowly trickle in.
It was important to recognize this achievement and celebrate it.

-Alex Silva, VITAS volunteer services manager
However, it was his Facebook post that really made the difference.
"Kindergarten, first grade, second grade, and special needs teachers had their students create the most beautiful cards just for John's special day. We received cards from about 32 states—from all over the U.S," Alex said.
April 26, the day of John's birthday, was a regularly scheduled VITAS visit. At first, John thought nothing of it when Vicky arrived, as she always does, to take care of him and his wife, Lois. But shortly after, the rest of the team followed, including Alex, Team Manager Leoni DeJesus, Social Worker Kraig Beaver, and Manual Monge, RN.
"I also invited a representative from Honor Flight, the non-profit organization that organizes weekend trips to Washington D.C. for veterans. When Honor Flight arrived, he was beyond elated." Alex said.
'So Many Rich Life Stories'
John is a proud veteran who served his country in WWII. He was based in Newfoundland, supporting the U.S., British, and Canadian fleets. After the war, he was assigned to the Pacific, sent to USS Marcus Island off New Guinea, and later to Guam. When he retired, John volunteered at Rancho Bernardo Baptist Church and had taken leadership roles in military associations.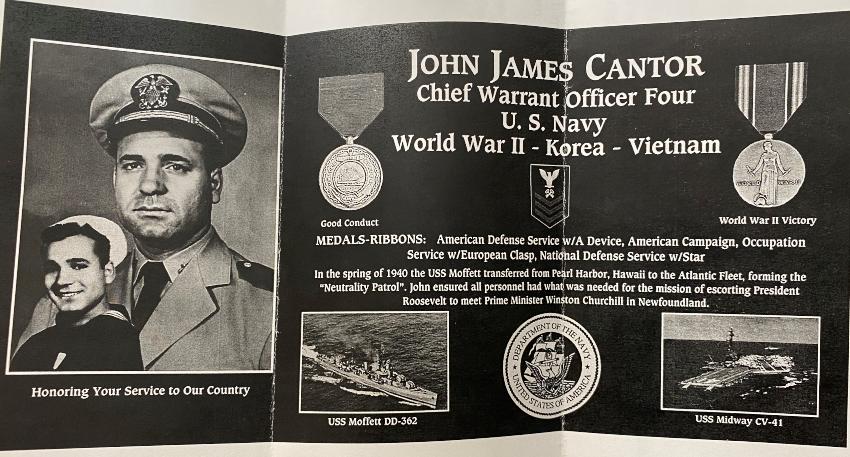 "There aren't many of our WWII veterans still with us," Vicky said. "At 105, John is incredible. I've never taken care of a patient who has reached 105. He's so alert and oriented. He remembers his military career year by year, event by event. His ability to share so many rich life stories in detail is outstanding."
John has been a VITAS patient since June 2021, while his wife Lois has been a patient since 2019.
"There's always been longevity in my family. I never would have guessed that I'd be the longest to live out of all of us," John said. "I do my best to stay active, and my strong faith has helped me reach this fantastic milestone."
Another Milestone Later This Year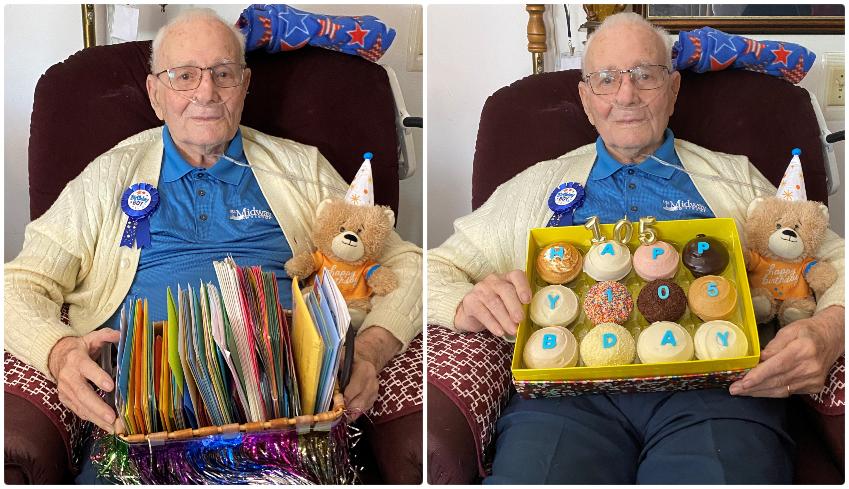 John's granddaughter and two great grandchildren traveled to San Diego to wish their grandfather a happy birthday, too. When they walked into the home and saw the decorations, cupcakes, and the entire VITAS team, they were taken by complete surprise.
"They had no idea we had planned a celebration. The amount of cards John had received really impressed them," Alex explained. "Between staff, Facebook, and our volunteers, we gathered 228 cards for him!"
His granddaughter, with tears in her eyes, said, "It's perfect you did that. He likes opening cards more than opening gifts! I can't believe you did all of this for my grandfather. It's just perfect."
One by one, John opened each joyous birthday card. Later this year, John and Lois will celebrate their 85th wedding anniversary, too.