Nurses, Working at VITAS
Possibilities Await for LPNs & LVNs at VITAS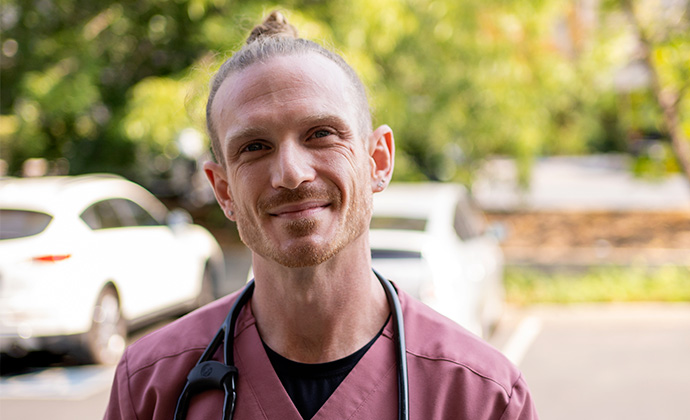 When you think about nursing, you might immediately think of registered nurses (RNs). But at VITAS, our interdisciplinary care teams also include licensed practical nurses (LPNs) and licensed vocational nurses (LVNs).
While the technical term varies by state, LPNs and LVNs play the same role on the team: They provide compassionate care to patients at the bedside, executing the care plan designed by the RN and physician.
Wayne Gomes, an LVN in California's East Bay area, enjoys the one-on-one connection that comes with being a hospice LVN.
"My favorite thing is the actual visit to see the patient," Wayne says. "I ask them how they're doing and help them become comfortable if they're not. I make sure that the family has no concerns when I leave."
Wayne typically sees between four and six patients each day. "I like meeting new people. Most of the people that I meet in this job, whether they're coworkers or the patients or the patient's families, have unique stories. I like learning about them."
The Role of LVNs and LPNs
LVNs and LPNs do much of the same day-to-day work as RNs, administering compassionate care to the patient at the bedside, with some slight differences.
I always feel like there is room for me to grow here and achieve bigger things.
"As an LVN, I have to collaborate with an RN to change or write a care plan," Wayne explains.
He enjoys the variety that comes with being a hospice LVN, caring for patients wherever they are, including:
Private homes
Skilled nursing facilities
Assisted living facilities
"I like working autonomously and being able to make my own schedule. It's nice to be able to go in and see one patient," Wayne says. "When you work in hospice, you're still practicing the medicine that you went to school for, but you get to be out and about."
Compassion Required
Perhaps the most essential trait of a good nurse is compassion—the ability to empathize with patients and families.
"I try to think about what it would feel like to be in their situation," Wayne says. "And then I treat them the way that I think I would want to be treated."
The compassion extends to colleagues, too. "I'll reach out to coworkers when they might need help in certain times, or even offer to see their patients to lighten their load for that day so they can go home early," Wayne says. "We all take care of each other."
Present Leadership, Deserved Recognition
A people-focused organization, VITAS has fostered a culture of appreciation among colleagues. We are proud to have present, approachable leaders who support and recognize team members.
In 2021, Wayne was recognized as a VITAS BEST winner, selected for his exceptional commitment, compassion, and can-do attitude.
"When I heard that I won the VITAS BEST Award and that my manager had nominated me for it, I felt very proud," he says. "It makes me feel like the work that I'm putting in every day matters to someone."
Patients notice his VITAS BEST badge clip, too. "Sometimes, my patients will ask me what my star is. I'll let them know that I've won an award for providing excellent care. It helps them feel more comfortable with me taking care of them, especially when they're first meeting me."
The LVN Path: Paved with Possibilities
For committed individuals passionate about this work, there are myriad opportunities for growth at VITAS. Wayne started at VITAS nearly 11 years ago as a home health aide (HHA).
"I always knew that I wanted to be a nurse," he says. "I was a home health aide first and then once I was working, I went back to school and got my nursing license. VITAS offers a tuition reimbursement program, so I took advantage of that."
With his manager's support, Wayne was able to arrange his HHA schedule around his nursing classes and clinicals. He plans to go back to school to become an RN, again using the VITAS tuition reimbursement program and flexible scheduling to help him get there.
"I always feel like there is room for me to grow here and achieve bigger things," he says. "I think it's really cool that there are opportunities to grow here. I've worked with people who've experienced it, and I plan on being one of those people myself.
"Being a nurse is my purpose in life."
View all current nursing job opportunities with VITAS.