Hearts and Hands Help VITAS Families by Making Memory Bears
When you think of hospice volunteering, sewing may not be the first thing that comes to mind. But if you're someone who can sew or loves to make handcrafted items, VITAS offers special ways for you to use your time and talents as a craft volunteer.
The Making of a Forever Friend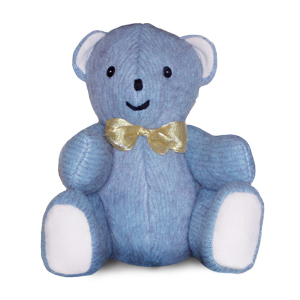 VITAS volunteers have made more than 98,900 Memory Bears and Memory Pillows since 2005. These keepsakes are made from a loved one's clothing or fabric.
Memory Bears and Memory Pillows can bring a smile to someone in distress, offer a sense of security to a child or be a good listener for someone who needs to talk. They are mailed to loved ones or delivered by the nurse on the patient's care team.
Comments from recipients, such as, "Now I have something to hold on to," and "I don't want to put him down," testify to the heart-warming effects Memory Bears and Memory Pillows have.
Bathrobes, button-down cotton or flannel shirts, uniforms, dresses, pants, even uniforms have been used to make Memory Bears and Memory Pillows. Each one is unique, and volunteers have the liberty to add embellishments to personalize each item, such as a cap, vest, ribbons or buttons.
For those making the Memory Bears and Memory Pillows, there is a feeling of purpose and accomplishment. According to one Memory Bear volunteer, "It gives me a great feeling. I know I'm helping someone… I know my bear will bring them comfort."
Helping Others—A Common Thread
Other craft volunteers use their sewing skills to make useful items for patients.
Volunteers who enjoy knitting and crocheting often make lap blankets, shawls or afghans for patients. Other sewn items can include open-in-the back gowns.
The skills and projects may differ from volunteer to volunteer, but they all share a common thread—each item is stitched with care and compassion.
Become a Memory Bears volunteer.