At VITAS, the pet visit program is called Paw Pals. VITAS trains friendly, well-behaved pets to be Paw Pals. A registered VITAS Paw Pal volunteer, always accompanied by their human companion, knows how to visit patients near the end of life and is at ease in medical and residential facilities as well as private homes.
Although most VITAS Paw Pals are hospice dogs, other animal volunteers may be considered on a case-by-case basis. All potential volunteers and their human companions are screened.
For information about a local Paw Pals program, please contact your local program to find out if Paw Pals is available in your location, whether they are accepting new volunteers for training or how to arrange for a Paw Pals visit.
Volunteers Share Their Stories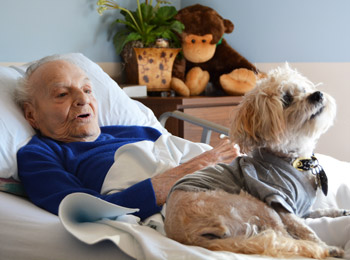 Paw Pals volunteers and their owners love to tell stories of hospice moments. One Paw Pal owner recalled a visit to a VITAS inpatient hospice unit:
"I stopped at a patient's room and asked the husband if his wife would like to have a visit with Pogo, my Shetland sheepdog," the volunteer said. "He said they'd never had animals and he didn't think she'd be interested. But I could see that she was interested, so I asked if I could just put the dog on her bed. The woman immediately put her arms around Pogo and held him for 15 minutes or more. She passed away the next day. Her husband later said that it was the first time in three years he had seen her smile. He has that memory of her smiling. That's what Paw Pals do; they bring hope to people."
Become a hospice volunteer.