Inpatient Hospice Care
When Symptoms Can't Be Managed at Home
Most of the time, hospice care is brought to the patient at home, since home is where most seriously ill people want to be: in familiar surroundings with familiar routines and familiar faces.
However, all hospices must offer inpatient care for 24-hour pain control or acute or complex symptom management that cannot be provided at home or in other settings. Inpatient care is provided in a facility—often a hospital, but also nursing facilities and free-standing hospice houses—that can provide round-the-clock clinical care.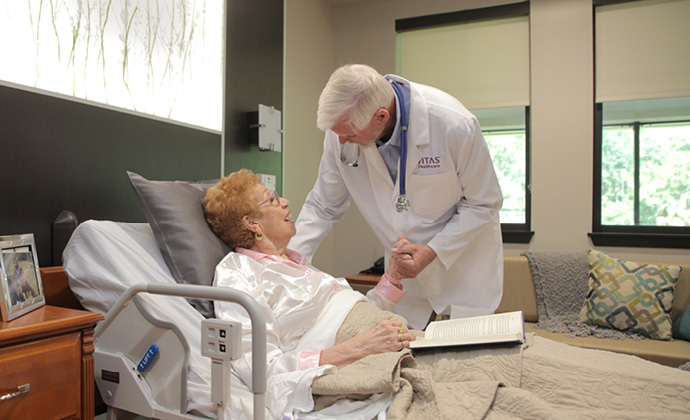 The atmosphere in an inpatient hospice setting is markedly different from that of an acute-care facility. The inpatient hospice unit is calmer and more homelike. Staff members move at an unhurried pace, often taking time talk with the patient, visit with the family and answer questions.
Day and night, family members and friends of all ages are welcome, and arrangements may be made for overnight stays.
But make no mistake: aggressive pain and symptom management is at work, with a goal of stabilizing the patient so they can return home to routine home hospice care.
When Is Inpatient Hospice Care Appropriate?
Indications of the need for inpatient hospice care include:
Sudden deterioration requiring intensive nursing intervention
Uncontrolled pain
Uncontrolled nausea and vomiting
Pathological fractures
Respiratory distress that becomes unmanageable
Symptom relief via intravenous medications that require close monitoring
Wound care requiring complex and/or frequent dressing changes that cannot be managed in the patient's residence
Severe, unmanageable, agitated delirium, acute anxiety or depression secondary to the end-stage disease process, requiring intensive intervention.
Uncontrolled seizures
Minor procedures to aid in the comfort of the patient, such as removing fluid from the belly area (paracentesis) or inserting a permanent drain or tube
VITAS-Owned Hospice Inpatient Units
VITAS has multiple proprietary inpatient hospice units. Some are freestanding buildings; others are located in a wing or floor of another facility. All VITAS inpatient hospice units are unique. They are designed and decorated with hospice patients and their families in mind. They function as a home away from home for a hospice patient. The focus is on comfort and dignity, even when intensive care is necessary.
VITAS inpatient hospice units are staffed by a VITAS inpatient team. A VITAS physician makes daily rounds. Nurses provide care, and integrated staff members—from social worker to chaplain to music therapist— see assigned patients. Families are included in our care. Staff get to know loved ones. They may help out-of-towners navigate the area or welcome the visit of a beloved pet. They enhance quality of life for patients and families.
Our proprietary units offer amenities like family rooms, kitchens and children's play areas. There are places for quiet contemplation or prayer, and spaces that accommodate the needs of multiple generations. A cup of coffee and facilities to reheat a home-cooked meal are always available.
Inpatient Care: One of the Four Levels of Care
Whatever the surroundings, 24-hour inpatient care is one of the mandatory levels of hospice care, available when medically necessary. Some patients may need the inpatient level of care to help them transition from hospitalized curative care to home hospice. Others receiving routine home care may have symptoms that become exacerbated.
In either case, the patient usually receives inpatient care for a short period of time (3–5 days) until symptoms are under control, then returns home and the routine home level of hospice care.
VITAS offers four broad types, or levels, of care as defined by the Medicare hospice benefit:
Routine home care. This is how we provide hospice care most often: in patients' homes, long-term care facilities and nursing homes.
Continuous home care (Intensive Comfort Care®). When medically necessary, acute symptom management is provided at home or in another facility by hospice staff in shifts of up to 24 hours/day so the patient can avoid hospitalization.
Inpatient care. If a patient's needs cannot be managed at home, VITAS inpatient hospice units and special arrangements at other local facilities provide hospice care around the clock until the patient can return home.
Respite care. Limited to up to five consecutive days and nights, respite care provides a brief "respite" for the patient's primary caregiver by admitting the home care patient to an institutional setting without meeting the "inpatient" pain and symptom management criteria.
Contact the VITAS care team near you.