VITAS Advantage: Supporting Physicians With Patients Requiring High-Acuity Care
Patients with aggressive symptoms, unmanaged pain or making frequent visits to the ED may be eligible for hospice.
Is Your Patient Hospice-Eligible?
How VITAS Helps You
VITAS is equipped to take on patients who require high-acuity care—patients for whom other hospice programs may lack resources or expertise to provide the necessary care, especially when complex modalities are required.
We tailor our care plans to patients' wishes and goals near the end of life, producing more favorable outcomes for patients, families and caregivers, and fewer trips to the hospital and ED.
Case Study: Patient with Advanced Alzheimer's
RK, an 87-year-old woman with advanced Alzheimer's and previous hospitalizations for pneumonia, experiences shortness of breath and aspiration pneumonia at home, where her daughter is her primary caregiver. RK's physician and the daughter agree on an immediate hospice evaluation by VITAS, in accordance with RK's wishes to avoid aggressive care near the end of life.
See Complete Case Study >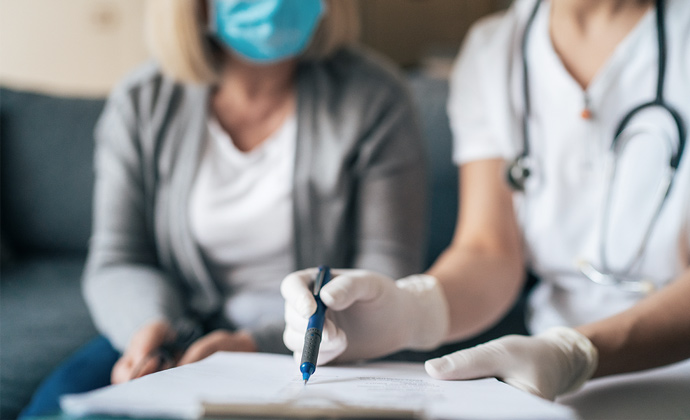 Aggressive Symptom Management and Complex Modalities
No matter how complex or challenging your patient's symptoms, VITAS offers hospice and palliative care solutions and protocols that many other hospice providers do not, including but not limited to:
Intravenous therapies for pain management, hydration, antibiotics, etc.
Paracentesis and thoracentesis
Chest tube/PleurX
High-flow oxygen therapy
Palliative blood transfusions
BiPAP, CPAP and Trilogy non-invasive ventilation
PEG-tube care and tube feedings
If symptoms worsen while your patient is under hospice care, VITAS adjusts the patient's level of care to provide full-time clinical support, additional palliative measures and/or a temporary stay in a VITAS inpatient hospice unit until symptoms are stabilized and pain is managed.
Individualized Care Plan in Preferred Setting of Care
Patients with high-acuity needs may require care that is difficult to deliver outside of a hospital, long-term care or skilled nursing facility.
VITAS develops a unique care plan for each of its patients, based on their medical needs, end-of-life wishes and goals of care. For most patients, this means receiving care at home. VITAS offers four levels of hospice care to meet a patient's varying needs throughout their disease trajectory, helping them stay home and eliminating the need for hospital stays or ER visits.
Explore other VITAS Advantages for Physicians
Clinicians: Sign up for VITAS emails
Subscribe for end-of-life care news and free CE webinars.
Sign Up