VITAS Advantage: 24/7/365 Clinical Care Support for Physicians
Symptoms do not adhere to a 9-to-5 schedule, and neither does our hospice team.
Is Your Patient Hospice-Eligible?
How VITAS Helps You
VITAS is here for you, your patient and their family any time of day, evening or middle of the night, all year long–even on holidays and weekends. Whether you have a question about medications just after the pharmacy closes, or you're ready to transition a patient from hospital to hospice at 2 a.m., VITAS' team of in-house clinicians are ready to help whenever you need us.
Case Study: Patient with Advanced Lung Cancer
MK, a 67-year-old, oxygen-dependent ex-smoker, is referred to VITAS for hospice care when he is too ill to visit his oncologist for nausea, vomiting, constipation, progressive weight loss, and new pain in his shoulder and lower thoracic region. VITAS provides temporary 24-hour bedside care per Medicare requirements and ongoing 24/7 Telecare support to help him and his caregiver.
See Complete Case Study >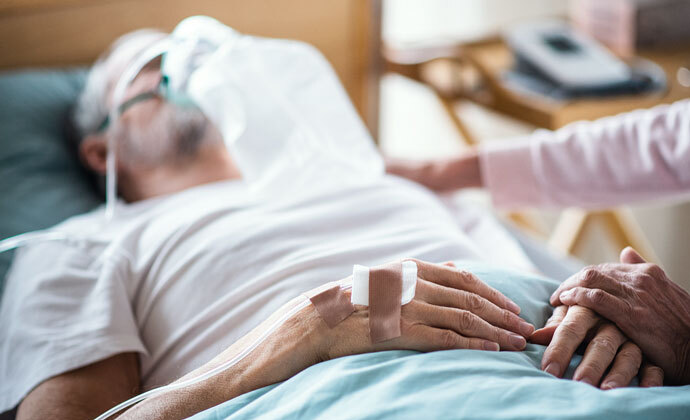 Live Clinical Support 24/7
When your patient is no longer responding to curative treatment, choose the comfort of hospice and be assured they'll receive the same level of support they've come to expect from you and your team.
When you refer to VITAS, you can trust our Telecare clinicians to answer any questions you, your patient, their family or caregiver may have. When necessary, a VITAS clinician can respond in person to address and stabilize a symptomatic patient, helping avoid 911 calls, ED visits and hospitalization. You'll receive round-the-clock access to their hospice team so that you can stay informed of any medical incidents or changes to their condition or care plan.
Seamless Care Transitions, Whenever You Need Us
Making late night rounds or a holiday house call, only to find that your patient could benefit from hospice? Don't hesitate to call us. VITAS typically responds to referrals in 15 minutes or less, regardless of the time of day or evening. Our admissions experts are ready to meet you and your patient wherever you are. Our mobile app makes referrals easy, seamless and secure.
Reduced Rehospitalization and ED Admissions
If symptoms worsen while your patient is under hospice care, VITAS can adjust the patient's level of care at any time to provide full-time clinical support, additional palliative measures until symptoms are stabilized and pain is managed. This helps keep your patient in their preferred setting of care, and out of the hospital or ED.
Explore other VITAS Advantages for Physicians
Clinicians: Sign up for VITAS emails
Subscribe for end-of-life care news and free CE webinars.
Sign Up