Diversity, Working at VITAS
VITAS Makes Its Mark as an LGBTQ+-Friendly Hospice Employer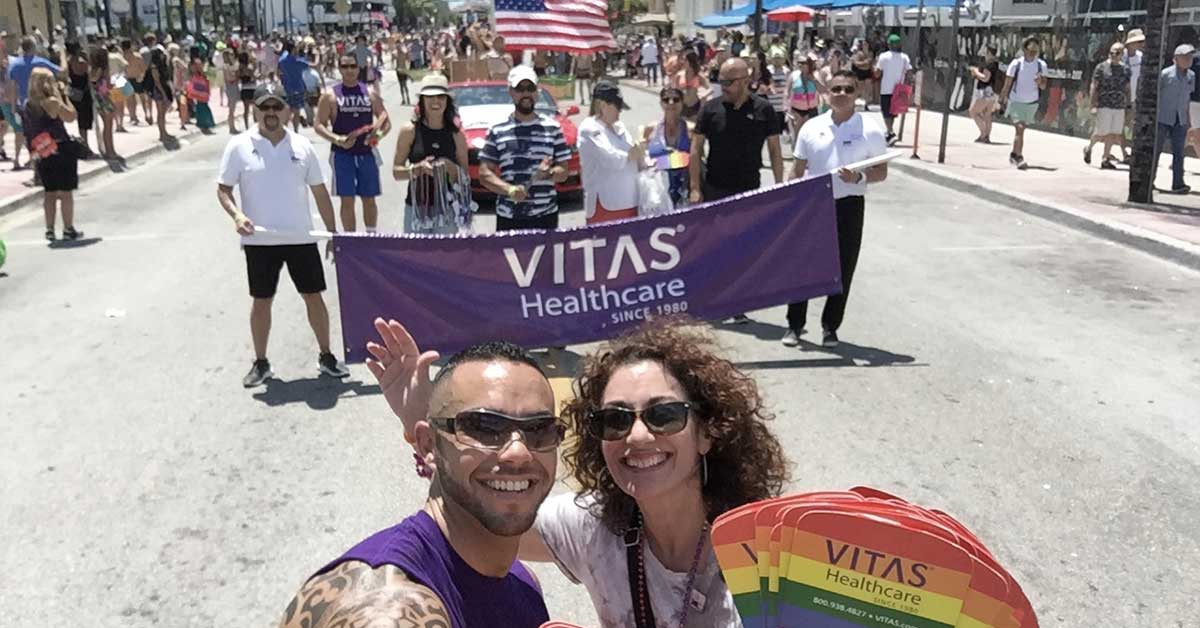 VITAS is unique for its committed outreach to LGBTQ+ patients and their partners/families, a policy that parallels the company's support of its own LGBTQ+ employees.
Many VITAS team members and clinicians identify as LGBTQ+ and can relate personally to the clinical, emotional, familial, and spiritual challenges associated with end-of-life care for LGBTQ+ patients and their partners and families.
"When our hospice professionals mirror the populations and communities we serve with informed compassion and personal commitment, we ensure that the care our patients receive is the personalized care they prefer and deserve," says Diane Psaras, chief human resources officer at VITAS.
Diversity at VITAS means actively working to remove obstacles so that employees can leverage company resources, their own experiences, and purpose-driven resolve to provide the best possible care for patients and their partners/families.
Authenticity and Support for LGBTQ+ Employees
"At VITAS, we have a policy of inclusiveness, and that's always been the case," says Joseph Shega, MD, chief medical officer. "The company stance and our values have always been explicitly stated, and the company-provided benefits back up the VITAS commitment to inclusiveness."
I can be very open and transparent about who I am.

-Joseph Shega, MD, chief medical officer
When Dr. Shega started at VITAS in 2013, domestic partner benefits were one of the perks that convinced him and his husband to move to Florida from Chicago.
"I can be my genuine, true self at work, with a boss who truly supports who I am with company benefits that support me and my family," he points out. "Such unwavering support feeds into employees feeling secure and comfortable working for an innovative, inclusive company."
Entrenched support and equal treatment of LGBTQ+ employees "tell the community that VITAS is accepting, and so is the fact that VITAS celebrates Pride Month and sponsors LGBTQ+ events in our communities," Dr. Shega says. "While I tend to keep my personal life personal, I also benefit being in a place where I can be very open and transparent about who I am."
LGBTQ-informed Care Started With the AIDS Crisis
Outreach to the gay community began early in VITAS' company history, says Nancy Auster, an admissions nurse in Miami, Florida, whose first job in 1991 was on a dedicated VITAS team that cared for HIV/AIDS patients in South Florida.
"We had a significant number of managers and employees who were already members of the LGBTQ+ community when I started," she recalls. "Not only did our employees and management feel strongly about taking in this marginalized population, but I know that at the time, our founders Hugh [Westbrook, a Methodist minister] and Esther [Colliflower, a nurse]—were strong supporters of this outreach. Hands down and without question, they thought it was important that we create a specialized team for outreach to our HIV patients and the gay community."
VITAS employees who identify as LGBTQ+ agree that their clinical presence and personal experiences lend unique authority as they care for patients, support patients' partners/families, and engage in outreach to communities.
Hospice Chaplain: 'Here, We Preach Inclusivity'
"I don't have to be an 'out' chaplain, and I understand that," says Renwick Bell, a VITAS chaplain in Broward County, Florida, since 2018. "My purpose is to lift people out of misery, and that's what I do as a chaplain for all of our patients and families.
"But I have been in situations when our hospice patients or their family members have been same-gender loving, and I come out to them immediately because I want them to be comfortable, especially if they might assume me to a judgmental person," says Bell.
The fact that VITAS is digging a little deeper is really a differentiator for us.

-Jaime Collazo, director of market development
Formerly a pastor of an MCC church in Palm Beach County, he is also hospice chaplain and volunteer clergy for Sunshine Cathedral, MCC. Metropolitan Community Church is a Christian denomination with a special outreach to the LGBTQ+ community.
"Here, we preach inclusivity," he says. "As a hospice chaplain, I put on understanding, I put on inclusivity, I remain adaptable so that I can put on the mantle of each situation that I'm in."
Rabbi Jane Litman, too, feels she can better relate to members of her LGBTQ+ support group in San Francisco. As a bisexual hospice chaplain whose early VITAS career focused on outreach to Jewish patients and families, she came to understand the same need for culturally sensitive, personally informed hospice care for members of the LGBTQ+ community.
Compassionate, Personal Experiences and Understanding
During the AIDS epidemic, 80 members of the 200-member synagogue she led at the time died of AIDS, sometimes at the rate of one patient per week. Those experiences, she says, create lasting impressions that continue to inform and guide her compassionate work as a VITAS chaplain.
Today, Litman facilitates a support group for LGBTQ+ individuals in San Francisco. She does it for the same reason that VITAS embraces inclusive policies for employees and offers support groups for veterans, spouses, parents experiencing the loss of a child, children experiencing parental loss, and other distinct populations: Litman and her LGBTQ+ colleagues understand their patients' experiences, their culture, and their grief.
"Few hospice companies go into so many diverse communities, and the fact that VITAS is digging a little deeper is really a differentiator for us," says Jaime Collazo, director of market development for VITAS in Broward County, Florida. "I'm proud to work for an organization like this."