Meet Johanna Marquez, a Hospice Social Worker
Hospice Social Worker Profile
As a social worker with VITAS, Johanna Marquez knows that each day will be different. She could be meeting with a family overwhelmed with caregiving duties, or helping her VITAS team come up with solutions for other hospice patients.
One thing is always the same, though: Johanna Marquez is committed to her work. "I am dedicated to our patients and their families," she says.
Johanna has been with VITAS since 2007. Before that she was a discharge planner at Holy Cross Hospital in Ft. Lauderdale.
It was while attending Florida International University as a graduate student that Johanna became aware of the role the social worker plays in hospice care. During two semesters of graduate training at Florida Medical Center, she spent time as an intern with VITAS Healthcare and knew hospice was a career path she would like to pursue.
A Compassionate Problem Solver
"I enjoy working with patients and families during a time when they are vulnerable and need what hospice has to offer," she says. "I am compassionate and good at problem solving. You have to be solution-focused to do this job. I see my job as creating a balance between the services VITAS provides, what families need and what community resources are available to them."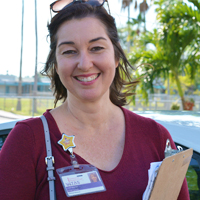 A Typical Day
"My role is diverse and complex at times, since I am the only social worker responsible for my team's case load (approximately 60 patients), but it's always rewarding. My goal has always been to help, however I can. Whether it's using my Spanish speaking skills or working outside my team with pediatric cases," says Johanna.
A typical day for Johanna includes listening to the nurses' report on their patients and then taking to the road to visit those patients, visiting four to five patients in their homes each day. Once a week she'll meet with all the members of the team, including the hospice physician, nurses and aides, to review cases. "I enjoy the flexibility this job has to offer," she says. "The best part of my job is knowing that I did the best I could and that I made a difference."
Related Articles:
View all current openings for social workers.