Making Connections at the VITAS Care Connection Center
The Care Connection Center (CCC) keeps patients and their caregivers connected to around-the-clock care while providing exceptional customer service.
The Role of the CCC
People are the heart of VITAS Healthcare. We are the nation's leading provider of end-of-life care, and we are committed to ensuring our patients receive exceptional care whenever they need it.
The Care Connection Center (CCC) is a central department that connects patients to the care they need, no matter the time of day or night.
From intake and after-hours patient care support to providing nursing care and ordering medication and supplies, CCC team members find purpose in providing exceptional customer service to patients and their loved ones.
CCC Departments
We offer clinical and non-clinical positions on five primary teams:
Intake
The intake team works with referral partners, admissions teams, and programs, building patient records, scheduling appointments, and ensuring the process is as seamless as possible for patients and their families.
Telecare
During the hours that program offices are closed, the telecare team provides patients with the same high level of individualized care and support to ensure a 24-hour continuum of care. When patients or caregivers call their program number after hours, they will be routed to the CCC. Patient care coordinators review these calls, determining if the caller needs clinical support. If so, they will be connected to a CCC RN or LPN/LVN, who will assist the caller through a phone call or a focused video visit.
Continuous Care After-Hours
The continuous care after-hours team functions similarly to the telecare team but focuses specifically on serving continuous care patients.
Pharmacy Infusion
Pharmacy infusion technicians coordinate the ordering, fulfillment, and delivery of infusion orders, ensuring patients receive the infusions they need.
Administrative
The administrative team oversees a robust training program, plus scheduling, quality control, and more.
Learn About Our Job Roles
Call center RNs and LPNs/LVNs at the CCC are focused on being true patient care advocates as they support VITAS patients and their families nationwide.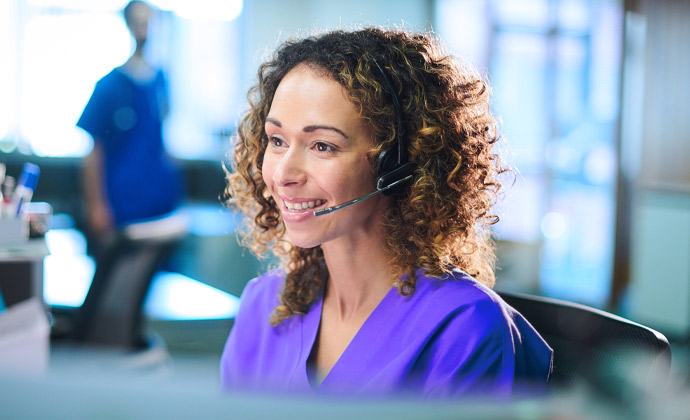 These roles require equal parts customer service and administrative duties to meet the needs of our referral partners, patients and families, facility partners, and all internal and external customers.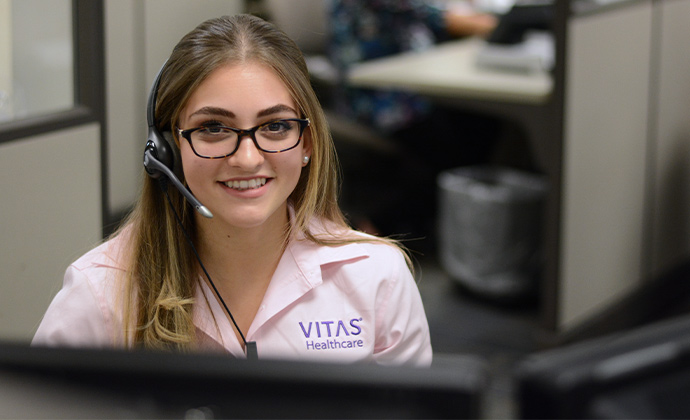 CCC Offices
Working at the CCC is an ideal opportunity for individuals with a variety of experience looking to connect with coworkers in a team-oriented call center environment.