Hospice Physician Testimonial
Monique Marie Williams, MD, MSCI
Medical Director, VITAS Healthcare
"Hospice is rewarding because you spend impactful time with patients and their families. I can't think of many specialties that allow that kind of involvement and time commitment for each patient and family.
"VITAS Healthcare is a great committed environment. We have phenomenal marketing, innovative community outreach and an excellent clinical team. There is a positive VITAS culture that nurtures people's development. It's very obvious—and unusual in a big company."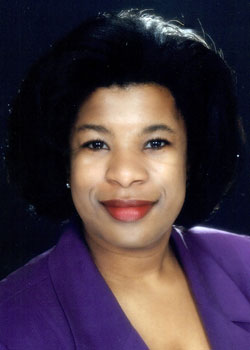 Dr. Monique Williams is a woman who knew what she wanted early in life—very early. She tells the story of asking her mother to take her to the family doctor when she was four years old—not for a check-up, but for career guidance.
"My family has a propensity for longevity," she explains. "At family gatherings I would sit with the elders and absorb their wisdom. My great-great-grandmother lived to be 114 years old, and I was intrigued with why she remained cognitively intact while others declined at far younger ages. This is the reason I asked my mother to take me to the doctor.
"He was the only doctor I knew," she laughs. "He was able to tell me there were medical specialties, like geriatrics, I might be interested in. I spent the rest of my childhood interviewing scientists and clinicians, and reached the conclusion that I wanted to address the care of older adults, including care in the terminal stages of dementia."
A background in geriatrics
Monique earned a medical degree at Washington University School of Medicine and spent five years training at Barnes-Jewish Hospital in St. Louis as an intern, resident and geriatrics fellow. She's done a considerable amount of teaching, research, lecturing and writing since 2004, and received hospice experience in the geriatrics departments of several Texas universities.
She returned to St. Louis as a post-acute hospitalist and, since 2014, has been medical director at VITAS, first part-time and soon full-time. She acknowledges that the job requires quite a bit of administrative work, but she continues to see patients and does "face-to-face encounters" to recertify patients.
"The majority of our patients are older, and there is a high proportion of dementia patients," Monique says. "That's very fulfilling for me because I have over 20 years of dementia care experience. But we also have younger patients, and I like the variety. It's a good blend."
She hopes to get back to the scholarship and writing she loves, now with a focus on advancing the science of hospice and end-of-life care. "We need to increase awareness of enhancing timely access to hospice care," Monique says. Meanwhile, she teaches about hospice every day.
"It's a topic misunderstood by the medical community and lay community alike," she says. "For example, both healthcare professionals and members of the community can feel uncomfortable initiating discussions about goals of care. In the past century, perceptions of death and dying have changed considerably, and these perceptions need to be realigned if we are going to improve access to optimal end-of-life care.
"We need a paradigm shift in other perceptions, too," she suggests. Like the concept of the interdisciplinary team—some physicians imagine the whole team standing at the foot of a patient's bed, whereas the team is more likely to be found at weekly team meetings reviewing and revising the plan of care. "Or physicians are worried that Medicare will be mad if their patient lives more than six months," she says. "My grandfather 'graduated' from hospice several times!"
Community outreach and education are among her greatest interests. "There is a critical need to have a global change," she says, "in the community, with community stakeholders and with physicians—starting with people in training now."
What does a hospice physician look like?
The physicians she'd like as her peers in the hospice field must be very responsive, she says, "because everything in hospice is an urgency. We want to achieve prompt alleviation of symptoms, so responsiveness is crucial."
They must be skilled in technology and able to prescribe electronically.
They must have excellent communication skills, able to provide simple, bulleted updates about patients.
They must be proactive about educating staff, seeing teachable moments everywhere.
Humility is essential, because "as hospice evolves, a doctor needs to be able to work with a team," Monique says.
They must have what she calls a "geriatric mindset," meaning they make it a priority to empower staff and facilities, work collaboratively in interdisciplinary teams and recognize the patient and family as the unit that receives care.
Monique ends with another story, about humility and empowering a facility and how the VITAS values and hers have dovetailed over the last two years. A nursing home sent word through the VITAS representative that a scheduled face-to-face encounter with a resident couldn't take place until 7:30 p.m. due to pre-existing facility activities.
So Dr. Williams showed up as requested at 7:30 p.m. She was greeted by a dumbfounded staff member who remarked, "That's unusual."
"Well," smiled Dr. Williams, "that's VITAS."
If you're interested in a career as a physician at VITAS Healthcare, tell us a little about yourself and we'll be in touch.
View immediate opportunities for physicians near you.