Hospice Physician Testimonial
Joseph Shega, MD
Chief Medical Officer, VITAS Healthcare
"VITAS supports and encourages physician development through traditional peer-to-peer as well as interdisciplinary mentorship. The goal is to grow professionally and benefit from each other's experience. The VITAS leadership team is a distinct and refreshing dynamic working and learning from each other: You have a general manager; the patient care administrator, who must be an RN; the medical director; and the director of market development. I've benefited the most by learning from the marketing team how to provide a focused argument about hospice and how to optimize the message for different audiences. At VITAS, marketing and operations work seamlessly to educate on why hospice is the right choice."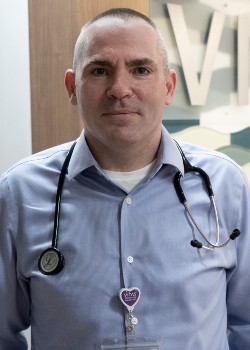 "VITAS offers a range of opportunities to pursue professionally so we can forge a path and career built upon our interests, talent and skills. For me, success is contributing to the relief of suffering, which brings me personal and professional fulfillment. I truly believe VITAS has the breadth and depth as a provider of hospice and palliative care services to offer an opportunity for physicians to contribute and create their unique combination of success and fulfillment. "
Dr. Joseph Shega's medical career has been academic; he was an associate professor of medicine at the University of Chicago in geriatrics and palliative medicine. "But I have always been 'doing' hospice," he says. Even as a geriatrics fellow, his goal was integrating palliative care into dementia management; the results were getting patients onto hospice services.
"The literature strongly supports hospice as the best care available at the end of life," the academician continues. "I'd like to get that word out to underserved communities and the professional community."
Joe says it was the physician-patient relationship that first drew him to medicine. It was the care of older adults that gave him the most satisfaction. Attending Northwestern University Medical School made him more aware of hospice, because it included an inpatient unit, a home care team, inpatient consulting services and a one-month rotation in hospice and palliative care. "I saw how that can make a difference," he says.
He joined VITAS in 2013 as a regional medical director*, overseeing the care of hospice patients in Florida, Georgia and Alabama. It's been a good fit.
"VITAS has offered me the opportunity to invest in myself," he says. In the last several years he has become chair of the ethics committee for the American Geriatrics Society and managing editor of the 5th edition of the UNIPAC self-study program of the American Academy of Hospice & Palliative Medicine.
"VITAS is very good at recognizing and supporting your professional journey," he says, citing the directions toward which the four VITAS regional medical directors lean. "Alen is interested in the business side. I'm quality of care, research and teaching. Jim and Eric have a more administrative and clinical focus. We each have different facets to our professional lives, and VITAS lets us develop our interests and strengths."
And while hands-on patient care accounts for just 20 percent of his job at VITAS, Joe makes sure it happens: he spends seven to eight weeks of the year in a VITAS inpatient hospice unit. "I make a difference to patients, families and staff," he believes. "They witness evidence-based medicine at the bedside and I stay connected to patients and families. In my role as regional medical director, my contribution is allowing other people to experience that through proxy. That's what a mentor does."
The best hospice doctor, this mentor says, is an advocate, someone who "appreciates and respects individuality, values personhood and matches each care plan to that personhood."
"Hospice gets back to basics, to the value and power of conversation and connectedness," he says. "But it's connection in a different way."
"As an academic palliative care doctor," he knows from experience, "your job is getting people to the hospice decision. But once they're on hospice, a whole different approach begins. Hospice isn't the end. It's the beginning of a different journey."
*Dr. Shega has since been promoted to Chief Medical Officer.
If you're interested in a career as a physician at VITAS Healthcare, tell us a little about yourself and we'll be in touch.
Join our team of passionate hospice professionals.