Hospice Physician Testimonial: Alen Voskanian, MD, MBA, FAAHPM, AAHIVS
Regional Medical Director, VITAS Healthcare
"At VITAS," says Dr. Alen Voskanian, "the opportunity is there to mold your career. There is plenty of flexibility in hospice and palliative medicine. Few fields are going through such growth, and VITAS Healthcare is at the forefront. It's very exciting."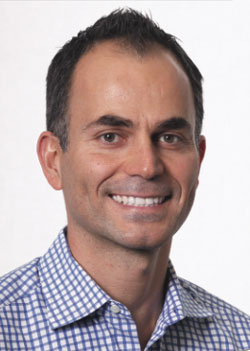 Alen Voskanian became familiar with hospice care when he began training on HIV as a fellow after graduating from UC Irvine Medical School. He saw the difference hospice made. "Most families struggled with death. It was horrible—so negative. Others went through the same process, but it was calm, peaceful. It was a good death; they were celebrating the life of their loved one. That motivated me."
When the physicians made hospice referrals, Alen remembered VITAS as the hospice that offered the best service to patients. The physicians were experts who visited their patients. Nurses were armed with tablets for electronic recordkeeping, while the clinic still relied on paper charts. The social worker would keep the clinic staff informed, providing the details Alen wanted to know about his patients.
A Door Opens
So in 2007, his patients now living with HIV and the clinic closing, Alen saw VITAS as a door to end-of-life care. He began as a team physician, visiting patients at home and giving them all the time they deserved. Coming from a clinic where visits were every 15-20 minutes on what felt like a treadmill, Alen savored the change. "I found my calling," he says.
It was VITAS specifically that he felt good about, because VITAS supported career growth. First he was urged to attend conferences. Then he was given management opportunities. "I needed more education to be a manager and a leader of physicians," he says, "and I always received support at VITAS.
He was promoted to medical director and, in 2012, offered a brand-new position: regional medical director for all of California. "It took my career to the next level," he says. "Now I looked at care from another perspective—more global."
His perspective went even broader when he was chosen from among 900 candidates to be an innovation advisor for the Center for Medicare and Medicaid Innovation, or CMMI. The post has taken him to Washington, DC, to discuss hospice with lawmakers. "Public policy is a huge interest of mine since being with VITAS," he says. "It affects the changes we want for our patients. Again, VITAS has been very supportive."
Proud to Make a Difference
Through it all, the VITAS values—Patients and families come first, We take care of each other, I'll do my best today and do even better tomorrow, I am proud to make a difference—have helped him navigate every challenge. "The values resonate with my own values," he says. "Focusing on patients and families—I rely on that value to guide clinical and non-clinical teams."

What kinds of physicians make great hospice doctors? Alen Voskanian has a ready answer. "Doctors who are interested in the patient. They look at the entirety of the patient. They are comfortable talking about goals of care, hopes, fears. They feel frustrated focusing on the disease.

"Hospice provides amazing care at the most challenging point in life," says Alen. "And it's rewarding: you make a difference."

If you're interested in a career as a physician at VITAS Healthcare, tell us a little about yourself and we'll be in touch.
View immediate opportunities for physicians near you.