Meet Jena, a VITAS Hospice Nurse
Jena Ruehl is a registered nurse on a VITAS home care hospice team in Cincinnati, Ohio. That means she spends her days visiting terminally ill patients in their homes, whether a private home or apartment, an independent or assisted living community, a nursing home or a family member's home.
Jena makes her own schedule every day based on how her assigned patients are doing, when she last saw them, what their needs are and any unexpected requests that pop up during the day.
She drives to each patient's home, bringing needed medical supplies with her. She assesses the patient's health medically, and because she is in the patient's home, she can monitor how the patient is doing day to day. She talks to the caregiver or family. She sees the home, the nightstand, the kitchen table—all clues to how the family or the patient is coping with the end of life. She takes whatever time she needs to meet the needs of each patient, who may be with VITAS for a few hours or for a year or more.
Visiting Ms. Bolce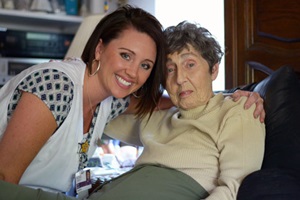 On this day, Jena is visiting Ms. Bolce, who lives at home with her husband, who is her caregiver. Her daughter lives in an adjoining home and shares caregiving duties.
"First we will meet a lot of her animals," Jena says. Dogs and cats come and go between Ms. Bolce's home and her daughter's home. "So once we get through them, typically she is in bed. I will assess her—take her vitals, listen to her lungs, her bowel sounds, look over her skin, ask her pain level, ask if she's in any pain or discomfort. I fill up her medi-set for the week. I go back every Tuesday and refill her meds."
"Hospice is Helping"
Jena has been with VITAS almost five years. She was living in Columbus and visited her hometown, Cincinnati, because her grandmother was dying. A friend told her VITAS Healthcare was hiring and suggested she apply. She knew very little about hospice care.
"I just thought hospice was the last week, last couple of days of someone's life," Jena recalls. "So I didn't know if I wanted to work with hospice, if I'd really enjoy that or not. But I thought I would give it a try and I've been here ever since and I love it!"
"I've learned that it's not just end-of-life care. It's going with them through the disease process and their decline. Hospice is helping, whether it's the patient or the loved one, through this difficult time in their life," she says.
"People think you're dealing with someone passing every single day, and that's not the case at all," she says. "A lot of times I'll do things like take the patient outside for a walk. I mean, yes, I assess them and look at them medically, of course. But we get to do a lot of things besides that. Get them dressed that day. Or curl their hair. Or take them outside. As a nurse at VITAS you really get to do a lot for the patient besides passing them the medicine or changing a dressing."
A Team That Goes Above and Beyond
Jena enjoys the team approach to patient care, but she especially appreciates the work ethic at VITAS.
"What makes VITAS different is the people who work here," she says. "We not only do our jobs, but a lot of us go above and beyond. Our social worker does things that are a little outside of her job description. We have a chaplain who is always there for support—for ourselves as well as for the patient and the primary caregivers.
"And we have great support from our manager. Anything we feel our patients or families can benefit from, our manager is willing to back up what we need. If we suggest massage therapy or physical therapy or pet therapy or just additional visits to help the family have a little rest or break, our manager will listen to our input and she will approve it.
"We discuss each patient and each patient who passes away and we have support through our whole team. Really, our managers, the nurses, the aides—we're all there for one another."
A Rewarding Experience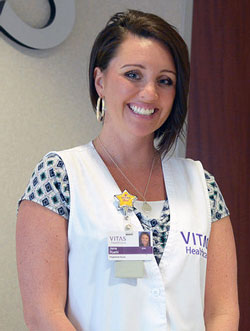 Like every hospice employee, Jena is frequently asked if her work is depressing. She admits it has its moments, but soon is talking about its rewards.
"We help the families and the patients through the process," she acknowledges. "We educate them to what they're going to be seeing and what they can expect. They're going through this time and there's not much that can be done; the disease will continue to progress.
"But being here, helping them along the way, is very rewarding. We turn a sad and depressing time around, because we're there in the patient's home and they are able to enjoy family members coming to the home, visiting in a comfortable setting.
"Every day is very different," she says, "because you're dealing with different patients in different environments. But at the end of the day, I feel good. I feel rewarded about what I did that day. I made a difference for the patient or the family member or even the facility staff who is working with the patient—made a difference not necessarily in their life, but in their day.
"VITAS is a great company to work for. They care about their employees, their patients, the families," Jena Ruehl says. "They are here to make a difference in patients' and families' lives. I would really encourage anyone to work for VITAS."