VITAS Advantage: 24/7/365 Clinical Care Support for Senior Living Communities
Symptom exacerbations do not adhere to a 9-to-5 schedule, and neither does our team.
Is Your Resident Hospice-Eligible?
How VITAS Helps You
VITAS Healthcare provides end-of-life care to compliment the services already provided by your staff that enables your resident to age in place.
The 24/7/365 availability of VITAS hospice staff maintains your organization's reimbursement/payment stream for non-hospice services and supports aging in place by bringing a range of hospice services—medical, emotional, and spiritual—directly to your resident. Avoiding relocation at the end of life is both emotionally and financially beneficial for the patient/family.
VITAS is here for you, your staff, your residents and their families any time of day, evening or middle of the night, all year long–even on holidays and weekends. Whether you have a question about medications at 4 a.m., or your resident is displaying new, uncontrollable symptoms during a major holiday, VITAS' team of in-house, regularly scheduled clinicians are ready to help whenever complex medical needs arise.
Case Study: Patient with Advanced Alzheimer's Disease
KW is a nursing home resident with advanced Alzheimer's disease. She was recently discharged from the hospital for complications arising from aspiration pneumonia. Shortly thereafter, KW experiences dyspnea, agitation, and fever in the middle of the night. Her primary care physician and the facility's director of nursing both suggest to KW's son that she may be eligible for hospice services. At 2:30 a.m., a VITAS admissions nurse arrives at the nursing home.
See Complete Case Study >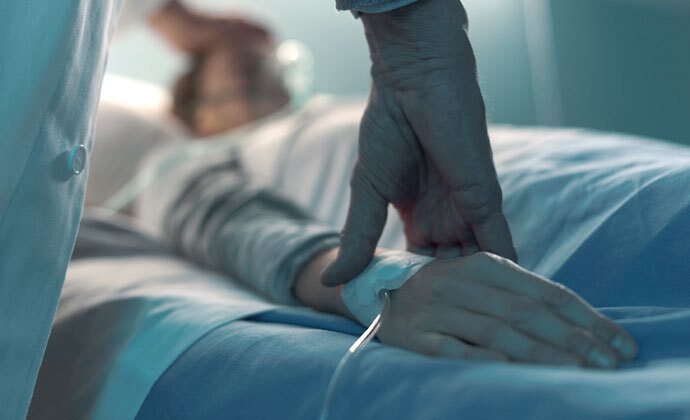 Live Clinical Support 24/7
When you refer to VITAS, you can trust our Telecare clinicians to answer any questions your staff, your resident, their family or caregiver may have. When medically necessary, a VITAS clinician can respond in person to address and stabilize a symptomatic resident/patient, ensuring your staff always has backup in case complex medical needs arise.
If medically appropriate, VITAS can titrate the level of hospice care at any time to provide full-time clinical support or additional palliative measures until your resident's symptoms stabilize.
Prevent ED Visits and Hospitalizations
Once a patient is receiving hospice services from VITAS, emergent conditions can often be handled without emergency measures. No matter how complex or challenging your resident's symptoms, VITAS offers hospice and palliative care solutions that many other hospice providers do not. Our priority is providing quality care, supporting your staff, and keeping your residents out of the ED to help maintain your positive relationship with referring hospitals.
For our nursing home partners, VITAS can support your short- and long-stay quality metrics and relationships with feeder hospital with our ability to intervene 24/7/365 to reduce hospital readmits and ED.
Explore other VITAS Advantages for Senior Living Communities
Clinicians: Sign up for VITAS emails
Subscribe for end-of-life care news and free CE webinars.
Sign Up