VITAS Advantage: Open Formulary for Senior Living Communities
Individualized care plans ensure residents continue evidence-based therapies that help improve symptoms and quality of life.
Is Your Resident Hospice-Eligible?
How VITAS Helps You
If your resident is ready for hospice, they may be concerned they will have to give up the medications prescribed as part of their curative treatment or worry that their symptoms won't be properly addressed.
VITAS Healthcare is one of a few hospices that actively maintains an open formulary to ensure that your residents can continue the medications that help improve symptoms and quality of life. An open formulary means there is no limitation to access to a medication. With guidance from VITAS medical directors and hospice physicians, your residents' wishes and goals near the end of life will be incorporated into a care plan that meets their clinical, emotional and spiritual needs–including the continuation of any prescriptions required for their primary diagnosis.
We partner with your residents' specialists and primary care physicians to facilitate hospice access and provide residents with the smoothest possible transition to VITAS hospice care.
Case Study: Patient with Advanced Cancer
RM, an 84-year-old woman with late-stage breast cancer that has metastasized to the lungs and spine, indicates to her family and oncologist that she prefers to die comfortably in the skilled nursing facility where she has resided for 5 years. Her hospice team visits her facility regularly for staff education and to implement her individualized care plan that includes comfort-focused medications. See Complete Case Study >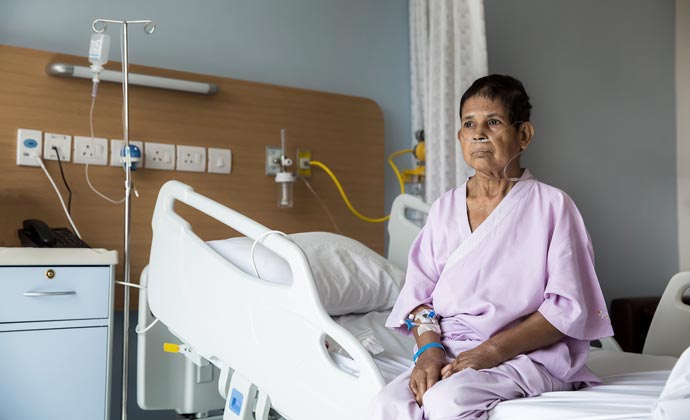 Open Formulary With 24/7 Clinical Support
VITAS clinicians are always available to answer medication-related questions for our senior living community partners. When a resident in your community becomes acutely symptomatic, a VITAS Telecare nurse can dispatch a clinician at any time–day, evening, weekend or holiday–to provide assistance and administer medication.
VITAS medical directors and team nurses are available to guide your staff and ensure optimal symptom relief through direct intervention and education.
Non-Pharmacologic Therapies
To complement our open formulary, VITAS integrates non-pharmacologic approaches to symptom relief and improved quality of life, including but not limited to:
Respiratory therapy
Music therapy
Paw Pals® pet visits
Massage therapy
Home Medical Equipment and Supplies
VITAS maintains its own home medical equipment division, allowing for seamless transitions to hospice and rapid delivery of necessary equipment and supplies directly to residents who are hospice-eligible, including:
ADL assist devices
Oxygen
Nebulizers
CPAP and BiPAP
Walkers and canes
Tub seats and bedside commodes
Incontinence and wound care supplies
Explore other VITAS Advantages for Senior Living Communities
Clinicians: Sign up for VITAS emails
Subscribe for end-of-life care news and free CE webinars.
Sign Up