VITAS Advantage: High-Acuity Care for Residents of Senior Living Communities
If your resident has been making frequent visits to the ED or has been readmitting to the hospital, VITAS can help.
Is Your Resident Hospice-Eligible?
How VITAS Helps You
VITAS can care for your hospice-eligible residents who require high-acuity care, for whom other hospices may lack resources or expertise to provide the necessary care. If your resident is experiencing distressing and/or difficult-to-manage symptoms such as shortness of breath, pain, or infection, VITAS can manage these symptoms in your community.
For our partners, this means helping your residents stay out of emergency rooms and hospitals and in your community. Through reduced ED visits and hospital admissions, your relationships with partner and community hospitals continue to improve.
By offering higher levels of care to manage symptomatic patients who may otherwise call 911, VITAS educates your staff on effective symptom management, alleviating stress and potential burnout.
Ongoing clinical support enable you to offer goal-concordant care to residents with advanced illness, so they may remain in their desired care setting in accordance with their goals, value and wishes.
Resident-centered, individualized care plans have been shown to impact satisfaction with care. For nursing homes, this also impacts short and long-stay quality metrics.
Case Study: Patient with Congestive Heart Failure
AF is an 84-year-old nursing home resident with congestive heart failure who has been hospitalized for a third time in the past three months. AF's family agrees to a discharge plan for hospice care in her nursing home, where she receives regular visits for personal care, symptom/medication management, and a goals-of-care conversation.
See Complete Case Study >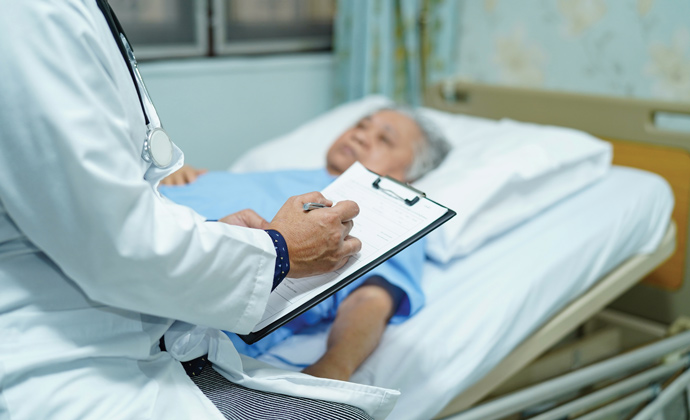 Residents Remain in Place
Intensive Comfort Care®
When a resident's medical crisis would ordinarily require hospitalization, VITAS caregivers are available to complement LTC staff by providing short-term, intensive medical management through our Intensive Comfort Care® (continuous care) program.
Provided up to 24 hours per day when medically necessary and delivered by a nurse with support from a hospice aide, this hands-on management can make the difference between a resident remaining in your community and being sent to the emergency room.
VITAS Telecare 24/7 Support
Our Telecare service provide your staff with immediate telephone access to a clinical expert who can assess the situation, provide medical advice and dispatch a clinician if needed.
General Inpatient Care
General Inpatient (GIP) care, one of the four levels of care mandated by the Medicare hospice benefit, is available if a resident's symptoms are too severe to be managed in your community. In this circumstance, your resident is cared for a short period in a contracted GIP bed either in a hospital, nursing home, or a freestanding hospice facility or inpatient unit until their symptoms resolve. Once these symptoms are under control, VITAS facilitates transition back to your community.
Consistent and Ongoing Clinical Care
On average, five or more visits per week by a member of the VITAS care team (which includes a hospice physician, nurse, social worker, hospice aide, chaplain and team volunteer) provide extra support for residents and their families. This high volume of visits is often instrumental in averting medical crises.
Explore other VITAS Advantages for Senior Living Communities
Clinicians: Sign up for VITAS emails
Subscribe for end-of-life care news and free CE webinars.
Sign Up