Volunteers, Testimonials
VITAS Volunteer Earns Academy Award Nomination for Short Film
Volunteers support every VITAS team, freely giving their time to fill a wide range of important roles. These compassionate individuals bring a variety of unique skills, perspectives, and backgrounds to their work.
When they're not keeping patients' company, checking in on families and caregivers, or lending their creativity to the hospice mission, many volunteers keep up with full-time jobs.
Few, however, claim filmmaking as their primary profession, and only one VITAS volunteer has been nominated for an Academy Award.
Doug Roland, a volunteer since 2017, wrote, directed, and produced "Feeling Through," a short film about a late-night encounter between a teen experiencing homelessness and a deaf-blind man. In addition to its Oscar nomination, the film has also garnered headlines for being the first to cast a deaf-blind actor—Robert Tarango as "Artie"—in a leading role.
Hospice Volunteering: A Heartfelt Purpose
Like so many people who choose to support the hospice mission, Doug was inspired by a personal experience with end-of-life care.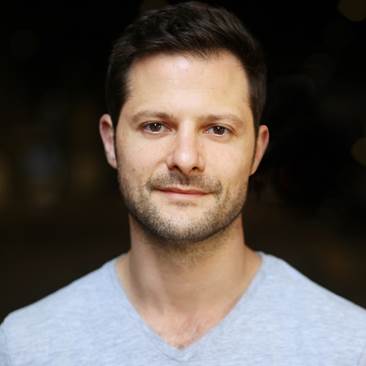 "[My grandfather] was fortunate to have wonderful hospice care the last several months of his life, and in his final days, he reiterated many times how important it was to have his loved ones by his side," Doug said in VITAS' Volunteer Voice newsletter. "When he passed, I felt deeply compelled to provide companionship and assistance to others in hospice care, and give them the same support that was so important to my grandfather."
In seeking volunteering opportunities in hospice, Doug discovered VITAS—as well as a volunteer manager whose background and interests were similar to his own.
"From the time of his classroom orientation, I've been impressed by [Doug's] maturity, humility, intelligence, ability to listen without judgment, and his great desire to be of service to his community," said David Lackey, volunteer manager for VITAS in California's San Fernando Valley and Ventura County. He notes that he was drawn to Doug's desire to honor his grandfather, as well as to their shared background in the motion picture industry and passion for baseball.
"In the years since," he said, "my first impressions have only been confirmed as they increase in measure."
'Driven to Action by Care'
In "Feeling Through," a troubled teenager—Stephen Prescod as "Tereek"—abandons his best shot at finding shelter for the evening in order to help a deaf-blind man get safely to his own home. In doing so, the two characters find true connection in—and in spite of—the considerable challenges brought by their unique circumstances.
"Feeling Through" was inspired by Doug's real-life interaction with a deaf-blind man at a bus stop in New York City. Although the film is not about dying, death, or grief, Doug says the situation it portrays shares DNA with his experience as a hospice volunteer.
"Volunteers contribute an ingredient that cannot be duplicated."

-VITAS Volunteer Manager David Lackey
"Energetically, it's definitely in the same space," Doug said. "Both of those experiences are about being moved deeply by a really personal connection with another human being whose situation isn't like your own. It's about being driven to action by care and regard for others to facilitate further connection."
An irreplaceable part of the hospice team At VITAS, volunteers have the flexibility to choose a role that matches their skills and provides personal fulfillment while supporting the needs of our patients, families, and care teams.
Some volunteers soothe body and soul with aromatherapy or Reiki, prompt creative exploration through art and music, or help patients look their best with makeup assistance and hair care. Others provide gentle massage, accompany their Paw Pals® pets for visits, or sew Memory Bears from patients' clothes as mementos for their loved ones.
As with his filmmaking career, Doug's work at VITAS has involved a variety of roles. He began volunteering for VITAS in 2017 as a Friendly Visitor and Life Review Volunteer, spending time with patients for conversation and helping them transform the details of their lives into biographical mementos for loved ones.
These conversations are focused on active listening in ways that clinicians may struggle to provide, David says. They instill trust in patients, and often lead to the kind of self-expression and reflection that can significantly improve a patient's psychosocial well-being near the end of life.
"Volunteers were an essential part of the original hospice care movement in America, and their presence on the [interdisciplinary team] must not be underestimated," David said. "Because they are the only discipline who has no duty or obligation to be at the bedside, volunteers contribute an ingredient that cannot be duplicated.
"Their presence is unconditional and is not lost on patients and families—in fact, it bears witness and honors those we care for in an authentic way that resonates with their families long afterwards."
'I Am Honored to Volunteer'
In early 2020, the COVID-19 pandemic prompted many care facilities to close off access to all but the most essential clinical personnel. In response, Doug dedicated himself to supporting patients, families, and caregivers over the phone for several months.
"It really is a beautiful part of my day to truly be present with the patient in front of me."

-Volunteer Doug Roland
When post-production on "Feeling Through" kicked off in earnest, Doug took a temporary hiatus from his volunteer role. Although filmmaking is truly a dream job, it's clear that he has no shortage of fondness for VITAS and our mission.
"I am honored to volunteer for a wonderful organization like VITAS and the amazing team that makes it up," he said, noting that he's looking forward to visiting patients again soon: "It really is a beautiful part of my day to truly be present with the patient in front of me. So much of life is running from one thing to the next; there's a real practice of mindfulness behind just sitting and listening and responding to what another person wants to talk about.
"I get the most fulfillment out of that."
Unsurprisingly, the spirit of human connection, acceptance, and love permeates his short film just as much as it does the work that he and other volunteers perform at VITAS every day. You can see it for yourself: "Feeling Through" is available to view for free online.
"In my 15 years in the studios, I have only met a handful of talented folks as genuinely grounded and humble as Doug," David said. "He is so deserving to be recognized for this compelling film."
The 93rd Academy Awards were held Sunday, April 25, 2021.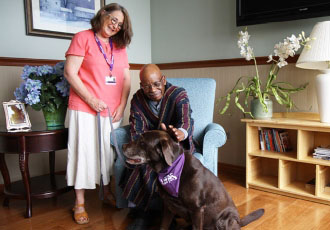 Volunteer with VITAS
Because hospice patients have unique end-of-life needs, VITAS seeks volunteers from all backgrounds, experiences and cultures.
Apply To Volunteer Today