The Benefits of Caregiving Can Be Emotional, Physical and Cognitive
Look On the Bright Side
The typical American caregiver is a middle-aged woman taking care of an aging parent, but a 2017 AARP study found that 40 percent of men are involved in caregiving, too.¹
Regardless of who's doing the work, caregiving can take a toll, whether it's provided by a 40-something adult daughter or middle-aged son who is also juggling a full-time career and other family demands. Yet studies also indicate there's an upside to caregiving.
What Are the Gains?
In a 2014 survey conducted by the Pew Research Center, American caregivers said they found the experience to be far more rewarding (88 percent) than stressful (32 percent).2 Likewise, a separate 2014 survey by the National Opinion Researcher Center (NOPC) indicated that 83 percent of caregivers found the experience to be rewarding.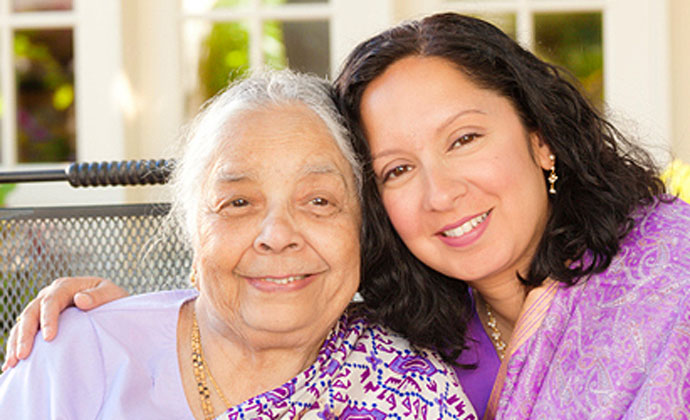 According to the American Psychological Association's assessment of the NOPC findings: "Many family caregivers report positive experiences from caregiving, including a sense of giving back to someone who has cared for them, the satisfaction of knowing that their loved one is getting excellent care, personal growth and increased meaning and purpose in one's life. Some caregivers feel that they are passing on a tradition of care and that by modeling caregiving, their children will be more likely care for them if necessary."
And there is more. Since the average caregiver is on his or her feet most of the day—bending, lifting, walking—there are physical benefits to caregiving. The daily caregiving activities of bathing, dressing and moving a loved one and manipulating heavy or cumbersome medical equipment can build strength and stamina. Done consistently, these activities can improve the caregiver's physical health.
Juggling schedules, paying bills, keeping up with medication times and doses as well as talking to healthcare and insurance professionals are cognitive skills that can help sharpen the caregiver's mind and improve memory.
Accentuate the Positive
It is not unusual for the strain of caregiving to cause simultaneous positive and negative effects. Numerous studies have found, however, that caregivers who dwell on the positive aspects of caregiving show lower levels of depression.
Caregiving is far from easy. Pablo Casals, the famous cellist and composer, once said, "The capacity to care is the thing that gives life its deepest significance and meaning." Caregivers are doing plenty of caring. Whether they see it as a burden or a benefit can influence how well they fare.
1Pew Social Trends: Caring for Aging Parents. http://www.pewsocialtrends.org/2015/05/21/4-caring-for-aging-parents/ AARP.
2The Hidden Male Caregiver. 2017. https://www.aarp.org/caregiving/life-balance/info-2017/hidden-male-caregiver.html
Find out if hospice care could help your loved one.