Social Workers, Working at VITAS
VITAS Social Workers Share a Deep Passion for Caring
"I love my job," says Katy Tyner, VITAS home care social worker in Orange County, California. "What keeps me going are the patients and families and knowing they need me and they're depending on me. And if not me personally, our team."
Social workers are often the unseen force that keeps families going when a patient is near the end of life. Even if they are not always welcome or wanted, it doesn't keep VITAS social workers like Katy from doing their jobs, and doing them exceptionally well.
"A lot of families do welcome me, but there is some apprehension," says Anjana Kathuria, VITAS medical social worker also from Orange County. "When they hear I'm a social worker, they think that I'm here to monitor them."
But it is the breakthrough moments and the ability to share their deep passion for caring that keep social workers like Katy and Anjana motivated.
Says Katy, "When you can make that connection and then they realize, 'Oh, this is a good thing for me and for my mom, I need these people.' That's the best part, when you can just be there for someone."
"It is a big privilege to be there with the patients and families, at this time of their lives," Anjana says. "I try to meet patients and family where they are, and see where they are with the process, and then navigate accordingly. If they are more guarded, I try to help them feel a little bit more relaxed and assure them that we are here to support them."
A Job With Purpose
Born and raised in India, where many of her peers were looking to go into medicine or engineering, Anjana wanted to do something different. Her brother, a social worker himself, encouraged her to explore the same career path.
Working for a non-profit in child and family welfare in India, after two years, Anjana moved to the United States. After several more years working with foster children, she applied for a position with VITAS.
It is an honor to be in this process. I love what I do.

-Anjana Kathuria, VITAS social worker
"I applied and got accepted, and I thought, 'I'll take it for six months,'" Anjana recalls. "But once I started working here, I stopped looking for other jobs, and I've been here for so long, and I love it. I love what I do."
That was almost 20 years ago, and Anjana continues to bring a smile and helping hand to the job every day.
In her seventh year at VITAS, Katy came to social work from a different sort of "social" work – the restaurant industry.
"I graduated with my master's in 2014, and it was just time," she says. "It was time for me to go find more purpose."
Supportive Career Growth
Katy's career at VITAS began in administration, but with the support of her manager and teammates, she was able to make the transition to the field.
"It wasn't enough to be in the office working," she explains. "I wanted to meet the patients, meet the families. There was a lot of push from the office staff for me to make that transition, and I had a lot of people supporting me and backing me, and so I made the leap."
Anjana loves cheering on her teammates who pursue other paths at VITAS. "I have seen lot of people [who] grow with VITAS," she notes. "I've had other team members who became bereavement managers, or team managers, and it's really nice to see that."
A Never-Give-Up Attitude Serves All Patients
As a bartender and server in the restaurant industry, Katy learned lot about connecting with people on a personal level, a lesson that has served her very well in her career.
"Sometimes you haven't lived an easy life and your family isn't always there for you. And so for us to come in and advocate for them to get what they need at the end of their life is why I do what I do."
One such patient was a homeless man in Southern California. Katy developed a rapport with the man, bringing him cigarettes as a peace offering to earn his trust. She offered emotional support and resources to help, even if he did not readily accept it.
Katy didn't give up. Even during violent episodes when her manager advised her to stay away, Katy would wait in her car to make sure her patient was safe and was there to advocate for him if the police became involved.
In the office, my field staff, my manager, my secretary, they all support us every day.

-Katy Tyner, VITAS social worker
Her efforts paid off. When her patient's condition worsened, she was there to move him off the streets and into a hotel, where he died in a comfortable bed with his friend and his brother by his side.
"He was going to die in a parking lot at a church if it weren't for our intervention," she recalls. "So just knowing that he was in a bed made me feel better, and his family had the support. They still reach out and say 'Merry Christmas' and all that. They grew very close to us because we were his lifeline. He didn't have a cell phone. They didn't know where he was. It was me looking for him every day, so that was their connection to him to know that he was safe."
It is that kind of deep passion for caring that VITAS social workers get to bring to the job every day.
"When somebody's dying, the last things that they want to know is that they are loved, they're respected, that they're appreciated," Katy adds. "And I think that's what we all deserve, what we owe to each other."
Reflective Listening Provides Comfort
"It is probably the hardest time for any patient or family to go through," adds Anjana. "As a social worker, I can be there, for emotional support, for listening, for providing a shoulder to cry on. And sometimes, some patients and family needs somebody to advocate for them, for their rights, and for their wishes, so I can help with that process."
She stresses the importance of listening, and practices what she calls "reflective listening."
"Listening to their stories and their struggles gives them some release, and some relief, and also helps them process where they are on their journey," she says. "I do reflective listening, so it helps them identify their needs, or how to navigate the time they have with their loved ones, or if it's a patient, how they want to make the most of the time they have."
'My VITAS Team Is My Family'
Anjana and Katy know that they could not do their job alone.
"Having all the support is literally how I survive my job, because the team is everything," says Katy. "In the office, my field staff, my manager, my secretary, they all support us every day. And you can't do this job by yourself. It would be impossible."
"It's a family environment," says Anjana. "You become intertwined, and you support each other through the good and the bad. They're a big support. We are always there for each other."
Katy agrees, saying, "My VITAS team is my family. When things go right, we all celebrate together. And if someone's having a bad day, the other one can help out."
"I do have my challenges, and I do have my difficult days," Anjana admits, "but it is a big privilege to be there with the patients and families at this time of their lives. I don't take that for granted. It is an honor to be in this process. I love what I do."
View all current openings for social workers.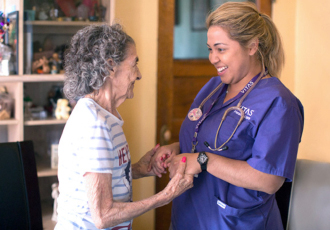 Choose a Career with VITAS
We offer a variety of full-time, part-time and per-diem employment opportunities. Employees earn competitive salaries and have the flexibility to choose a benefits package suitable to their own needs and lifestyle.
See Current Opportunities